Some of our brilliant female engineers from across the globe share how their careers have progressed at Keller.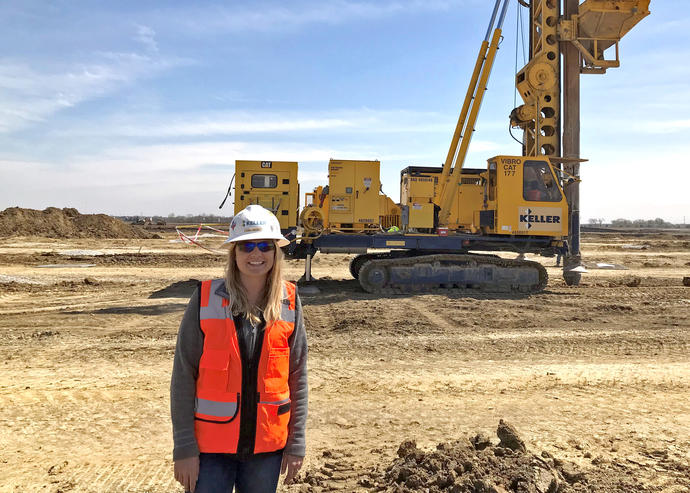 "I'm continuously encouraged to progress."
Carly Miller
Assistant Project Manager - Keller North America, Chicago
I joined Keller as a field engineer in June 2016, after graduating from the University of Wisconsin-Madison with a degree in geological engineering. Over the past four years, I've been promoted to project engineer and more recently to assistant project manager.
To be honest, I did have some concerns about joining a predominantly male industry. But when I interviewed for the job, one of the engineers said to me: "I'm the only female engineer / project manager you'll talk to today, so if you have any questions about being a woman in this industry, ask away." I came away realising that if she could do it, I could too. Meeting her showed me that I could fit in at Keller.
Since I joined, the folks here have continuously encouraged me to progress. I'm a hands-on learner, so I appreciate that the company has allowed me to try new things so I can work through my successes and failures and become a better engineer and project manager. I've also had a few very supportive mentors that have been there to answer my questions along the way.
My advice to other women engineers joining Keller is to stick with it and not be afraid of the field work. The first years of travelling and working can be challenging, but you learn so much to help you further down the line. Also, find someone to be your mentor. It's important to have experienced people to bounce ideas off, or just to vent to when you're having a tough day.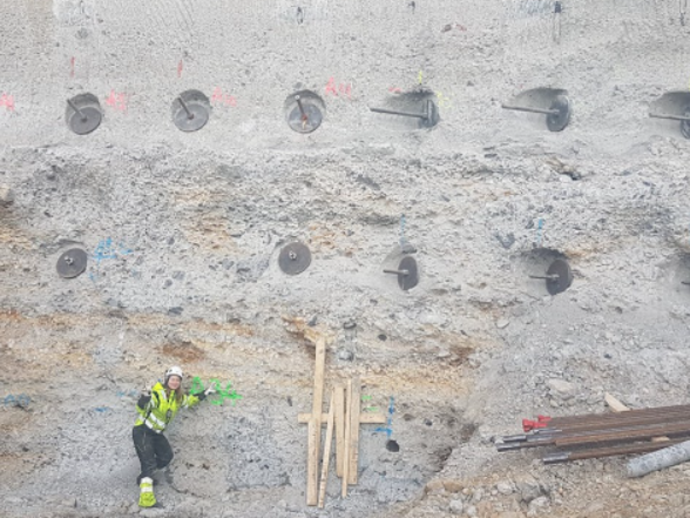 "I've only ever been treated with equality"
Tünde Lorinczi
Junior Project Manager - Keller Grundläggning, Sweden 
I studied civil and infrastructure engineering in Cluj-Napoca, Romania and then took a master's in geotechnical engineering, part of which was in Graz, Austria. That's where I first heard about Keller being one of the biggest and most respected companies in its field.
I joined Keller Romania in 2015 as a design engineer and then got the lucky chance to assist on a jet grouting project in Helsinki as a site technician. That was a game changer – I fell in love with project execution and ever since I've been a project engineer working on sites in Hungary, Austria, Finland, Norway and now Sweden, where I'm junior project manager.
This is still a profession where women are underrepresented. But I can say I've only ever been trusted and treated with equality.
My advice for women joining the industry is to remind them that we're just as capable as any man. In my experience, if you set a goal and you're determined, hardworking and persistent, you can achieve anything.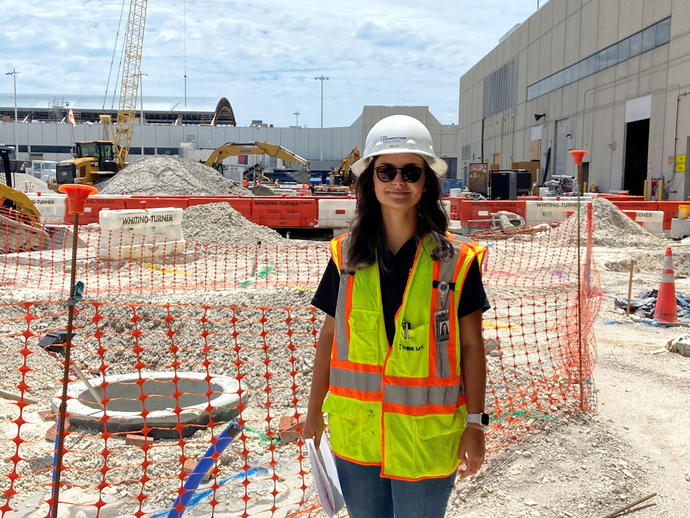 "I've had a lot of support from other women in the company"
Millie Pryphun
Assistant Project Manager - Keller North America, Florida
I joined what was then HJ Foundation directly after college, on the company's Preparing Individuals to Lead with Excellence (PILE) programme, which provides mentorship and experience of different areas of the business. I got the chance to work as a field engineer and in the machine shop, as well as in the estimating and project management departments. After I finished, I became a project engineer and within a year I was promoted to assistant project manager.
My degree is in mechanical engineering, so I didn't come in with the typical civil engineering background. PILE allowed me to learn and grow in the position. I was also attracted to the company because the Florida office has the feel and advantages of a small business, but with the support and resources of a global one.
I've had a lot of support from other women in the company. Knowing how male-dominated the company and industry are, these colleagues provide an invaluable source of experience and mentorship. One of the biggest challenges I've come across is people outside the company not taking me seriously or believing I can do the job because I'm young and a woman.
My advice to other young female engineers is that you have to be prepared to stand up for yourself and make yourself heard. Ask for help and training when you need it and find a mentor who can support and push you to better yourself.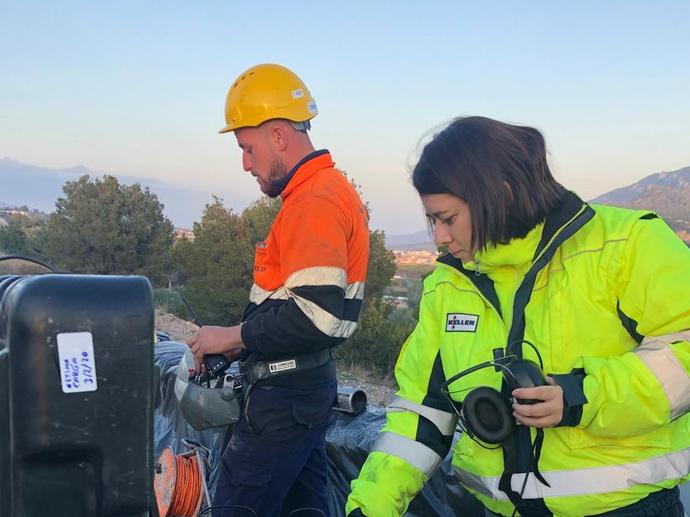 "Management has been very supportive of my continued training"
Belen Rodriguez
Product Line Manager, Jet Grouting  - Keller Cimentaciones, Madrid
My career with Keller started before I'd even finished my degree in technical engineering, thanks to a scholarship that allowed me to work here during the summer months.
After completing my course, I was taken on permanently, but the business encouraged me to continue studying. So for the next two years, I spent the mornings working in the contracting department and in the afternoons I attended university to get a higher engineering degree. Ever since then, Keller management has been very supportive of my continued training – the desire to learn is still alive and makes my job exciting and engaging.
I moved on to become a site manager, aged only 24, tackling many complex and challenging projects, and for the last three years I've been a product line manager, specialising in jet grouting.
At the start of my career I was concerned about the low number of female engineers in this field – the percentage is still very low today, especially in site management where it's hard to find any women in this country.
Unfortunately, there are still some narrow-minded people out there in the world who think that women should not be in this kind of work. I even had one client tell me he'd rather not have to discuss construction issues with a woman. But instead of discouraging me, comments such as these have only made me stronger. Keller has been very supportive in these situations.
It's still an incredibly hard area for women to work in, and it can feel like you have to work twice as hard to prove your knowledge and capacities to some people. However, geotechnical engineering is an exciting field; every project is different and opens up many new challenges.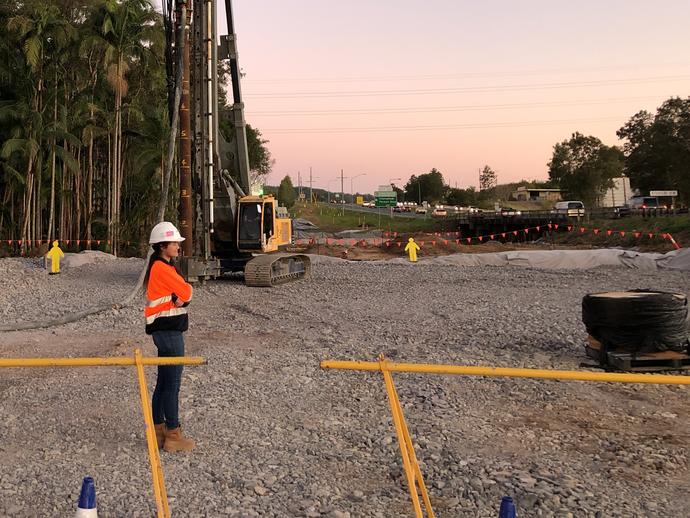 "The best encouragement I've had is being able to work alongside other female engineers"
Danah Crichton
Graduate Engineer - Keller Australia
I started with Keller as a student engineer in May 2019 and was offered a graduate engineering role in January 2020. I'd always had an interest in working in a variety of different situations and places, and with Keller I've been able to experience plenty of that so far. When I was given the chance to work as a student engineer, I took it with both hands and really found myself invested in the people and the company.
From the get-go I've found that everyone here is very welcoming and willing to get me involved with a bunch of different jobs. Everyone is eager to pass on a whole lot of teaching and this has made a world of difference to someone like me with very little exposure to the industry.
I've never found it much of a concern as to whether the people surrounding me in the workplace are predominantly male or female – although it's definitely encouraging to encounter other women in the industry. In fact, the best encouragement I've had as a female engineer is being able to work alongside other very capable and knowledgeable female engineers. I've learnt so much from them and hope that I can play that role for other young engineers in the future.
You get a lot of support from Keller, in the sense that there's so much depth of experience here. I've also had plenty of one-on-one support – no-one has ever made me feel stupid for asking questions (including the stupid ones), which is great!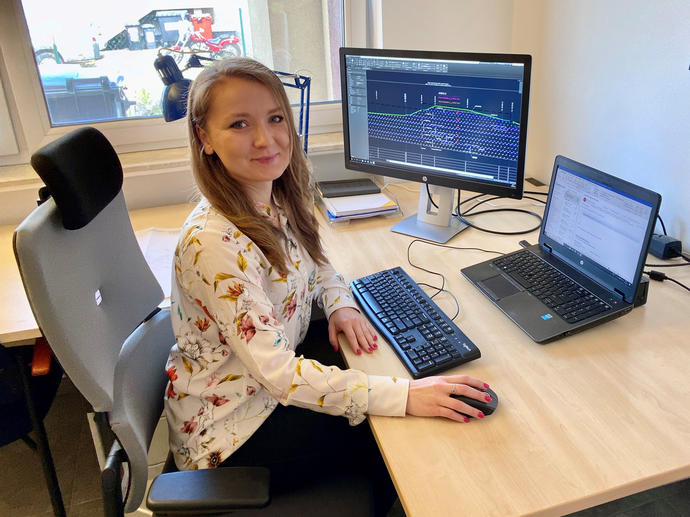 "I've always been able to count on the whole team for their support"
Emanuela Tomków
Assistant Designer - Keller Poland
I've only been with Keller a few months as a full-time employee, but before then I had two summer internships, working as a site engineer and then developing my design skills. I really enjoyed it and for a young person looking to start their career, it was a great way to get experience. The internships convinced me that this is the company that can help me achieve my goals. I'm now an assistant designer here in Poznań, Poland.
I've met a lot of great, intelligent people here. Thanks to such an amazing atmosphere, I've never felt like the 'new one' – I've always been able to count on the whole team for their support.
I always treat each task as a new challenge. Because of the experience of my colleagues, I'm able to improve my skills every day. I have full freedom in the way I work and complete tasks, and I get the chance be part of big projects that allow me to test myself in various roles.
If you want a peaceful, cushy job, this is not the place for you! There's a lot going on here so you have to be ready for a lot of challenges. That said, Keller will give you everything you need to meet even the most difficult tasks.