Bored piles are an effective product with many applications in foundation and civil engineering. Temporary and permanent steel casings are used for a number of engineering reasons.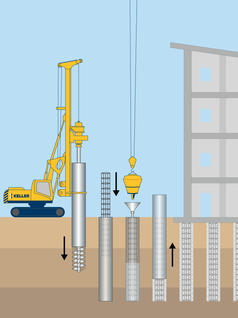 Common uses
Ensuring critical positional and verticality construction tolerances
To achieve adequate pile overlap at depth when installing an interlocking (secant) pile wall
Alleviate negative skin friction
To temporarily support an open bore at depth
To facilitate pile cut off levels above working platform level
Provide safety protection to an open bore
Protect existing and underground structures
Process
A casing is installed by either driving rotation, oscillation or vibration, soil drilled out using specialised tools, and additional lengths of casing(s) jointed and installed to a predetermined depth. Reinforcing steel is then lowered into the hole which is then filled with concrete. Temporary casings are then recovered.
Advantages
Support high loads
Load transfer
Improved positional and verticality tolerance
Various diameters available from 450mm upwards
Minimal settlement and deformation
Minimum vibration
Quality assurance
Keller uses a variety of quality assurance methods for our products including integrity testing, bottom bi-directional pile load tests, digital recording and logging of the execution parameters.