Ground anchors transfer tensile loads, using high strength steel bars or steel strand tendons. They consist of an anchor head, a free length and a bond length. We design and construct anchors as a stand-alone technique or as part of a turnkey earth retention or tie down solution.
For high tensile capacities in soils we are able to offer single bore multiple anchor  solutions which are ground anchors with multiple (more than one) bonds.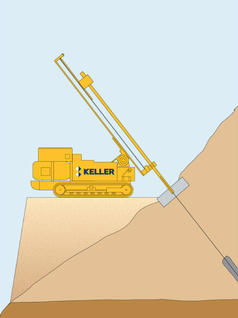 Common uses
Temporary or permanent slope stabilisation
Tie down applications for permanent structures
Process
A full-length hole is drilled through the soil and into the bond zone in soil or rock, using temporary casing if necessary. Threaded bar or strand tendon is inserted into the hole and the hole is filled with high-strength grout from the bottom up using a tremmie pipe. Any casing used is then extracted. Bond breaker covers the length of bar or strand above the bond zone to eliminate load transfer there. if necessary post grouting of the bond length can be done after few hours in order to increase the bond with the soil or rock.
Finally, the anchor head is tensioned or stressed in a controlled manner to ensure the load capacity is as required and then connected to the structure requiring the support. Post grouting can be done after few hours if necessary.
Advantages
Pre-stressing reduces movement of support structures
Can be executed in any type of soil
Reduces pile diameter, length and distance
Quality assurance
Keller has been installing anchors for many years, continually evolving the technique to achieve better performance. Anchor performance and proof testing follows global industry best practice stressing criteria. All anchors are acceptance tested while selected anchors receive more stringent site suitability tests.
Where ground conditions are highly variable or uncertain we often recommend a proof test which is a test to geotechnical failure of the bond.