Micropiles, also known as minipiles, are small-diameter drilled piles. Micropiles offer a cost-effective and efficient means to overcome a variety of foundation construction challenges.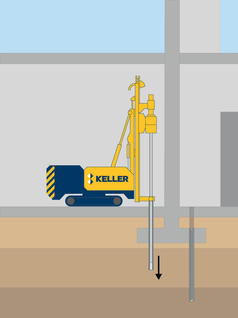 Common uses
Provide structural support to most structures
Process
The casing, with a diameter generally in the range of 178mm to 300mm is advanced to the design depth using a flushed or segmental auger drilling technique.
Reinforcing steel, typically an all-thread bar, is inserted into the micropile casing and high-strength cement grout 'tremied' in. The casing may extend to the full depth or end above the bond zone with the reinforcing bar extending to the full depth.
Capacities vary depending on the micropile size and subsurface profile but compressive capacities of more than 500 tons have been achieved.
Advantages
Comprehensive fleet of rigs and tooling for difficult subsurface conditions and limited access
Over 40 techniques enable mid-project modification to the foundation system if required
Nearly 30 years of experience with a wide variety of applications
Experienced at constructing micropiles for a variety of structures, loads, foundation connections, and subsurface conditions from completing hundreds of micropile projects
Capable of providing value-engineering proposals
Quality assurance
Keller has vast load test experience in various geological formations and the ability to design in-house based on various subsurface conditions.
During construction daily records maintained for drilling and grouting operations include: 
Pile identification 
Pile location 
Date 
Time 
Soils encountered  
Grout volume  
Grout pressure  
Samples of the grout used to construct the piles are cast into cube or cylinder moulds. After curing, they are tested in accordance with applicable Australian Standards to verify that the grout strength meet the required unconfined compressive strength specified in the design.
Post-construction
Load testing is performed in general accordance with the appropriate Australian Standard test procedure. In most cases a quick load procedure is used. The test pile is typically loaded to twice the design load to verify pile capacity. The test pile can be fully instrumented to measure the performance of the pile during testing. Data from strain gauges can be used to determine the load transfer to the soil over the length of the micropile bond zone.