Bored piles are high-capacity, cast-in-place elements constructed using a conventional kelly bar and auger system. Whether installed as individual foundation elements, in a pile cap group, or a retaining wall, we are ready to provide you with an optimised bored pile solution.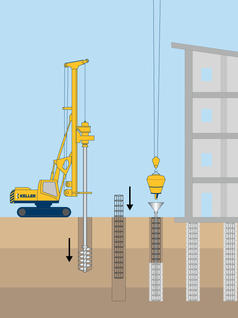 Common uses
As heavy foundations, securing deep excavation especially close to existing buildings as well as stabilising and retaining slopes
Where piles need to socket in rocks greater than medium strength
Mono piles for high rise structures/bridges
In a variety of infrastructure projects such as tunnelling, road or bridge construction as well as flood protection
Retain ground alongside an excavation pit or close to adjacent buildings, often combined with other techniques such as ground anchors or soil nails
For slope stabilisation to prevent landslides, or protect existing buildings
Process
The pile bore is advanced using a drilling tool attached to a kelly bar driven by a piling rig. The tool advances the bore each bite so the full rig capacity is available for the entire boring process. If the bore requires support to remain open, various methods are available and are selected based upon the soil conditions, the environment, and the ground water regime. These range from mechanical support in the form of temporary or permanent casing, or fluid support using water, polymer or bentonite.
Once the bore has been advanced to depth, and cleaned, a full length reinforcing steel is lowered into the bore which is then filled with concrete. Bored piles can be drilled to depths in excess of 80m and typical diameters range up to 2.4m.
Advantages
Very high load capacity
Various diameters available from 450mm upwards to in excess of 3000mm
Can be installed in a wide range of soil and rock conditions
Minimal settlement and deformation
Minimum vibration
Quality assurance
Keller deliver consistent high quality results whilst constructing bored piles. Our Federal Safety Commission (FSC) accreditation, company standards, processes, policies and procedures have been specifically developed to deliver this, incorporating innovations like the sonar pile profiler and CCTV inspections provide pre-concreting quality assurance.  Within all industry sectors Keller works strictly to Australian Standards along with the relevant project or industry specifications (DTMR, RMS, VIC Roads, Main Roads WA etc).
Keller offer fully qualified in-house design via certified engineers that can deliver quality piling and ground improvement solutions. Our design and engineering certification capability includes offering static tests, pile integrity testing, thermal integrity profiling, dynamic pile testing, inclinometer testing, geotechnical inspection, and comprehensive propping/bracing and anchor design to complete the full QA package.