Read how Keller continually modified the drilling process to deal with fluctuating river levels.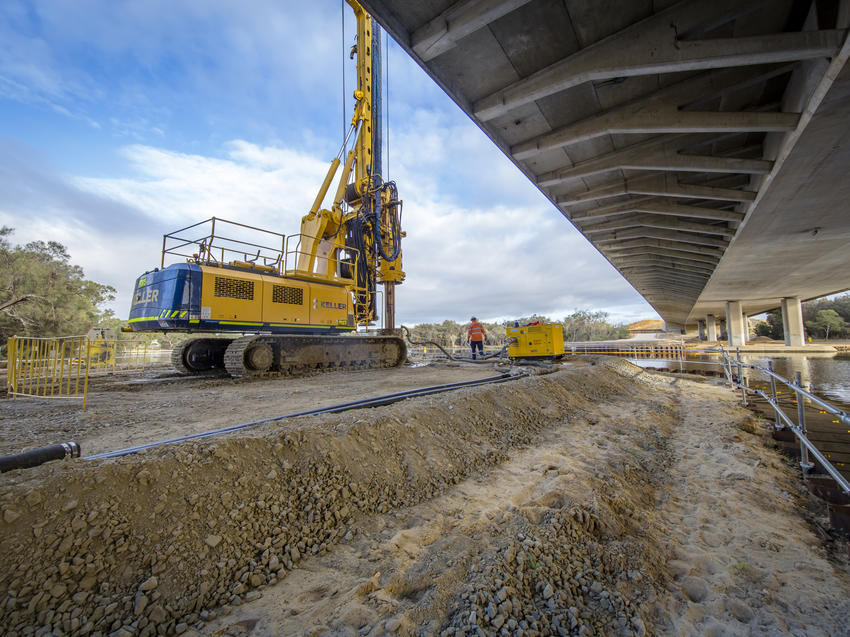 The project
Keller was engaged by Tonkin Gap Alliance for the design, installation and testing of bored piles under polymer support fluid, to support the new bridge crossing the Swan River. Returning for a second stage to install driven precast piles for the backspans. Keller offered a value-engineered design option that was more affordable than the prescribed scheme.
The challenge
There were multiple challenges in this project, including working on an environmentally and culturally sensitive site, fluctuating water levels and working in an area bisected by a public footpath that had to remain open throughout the works. In addition, piles had to be installed close to an existing live highway.
The solution
Environmental hazards were overcome by installing two piers from cofferdams constructed in the river. This enabled work to be carried out within the river. From a cultural perspective, all excavation work was overseen by representatives from the local indigenous people. To overcome the fluctuating river levels, continual modifications were made to the drilling processes. Dynamic load testing on the piles was carried out within 15m of a tunnel. To achieve this safely, Keller applied the load incrementally over a series of ever-increasing hammer drops to work with the vibration limit on the tunnel. Continual traffic on the public footpath proved less of an issue, as Keller personnel have worked on many sites which have 'live' areas attached to them, whether they be road, rail or foot traffic.
Project facts
Owner(s)
Western Australia Government