News article category
Project
When a new highway service centre was proposed for a site overlying soft, challenging ground conditions, Keller was brought on board as the geotechnical contracting expert to design and construct a high-quality, cost-effective ground improvement solution.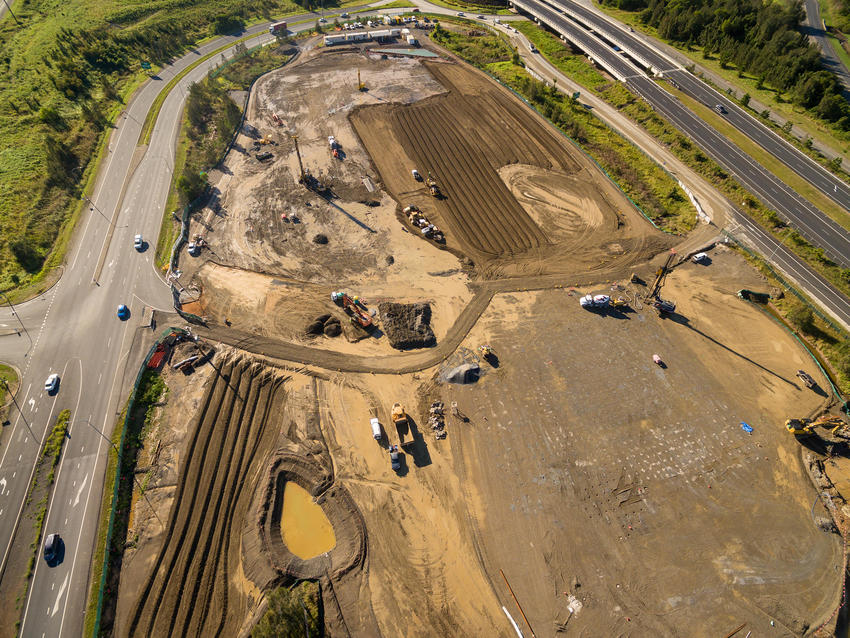 Once construction is completed in 2020, the new BP highway service centre in Ballina, New South Wales, will be a flagship stopping point for families and truckers. As well having all the usual amenities, it'll also feature a 'community cultural area' that it's hoped will attract a lively mix of buskers, artists and local retailers.
Keller was initially brought on board by the main contractor FKG almost three years ago to provide early evaluation expertise. As the project progressed, Keller designed and optimised a robust, cost-effective scheme that would allow the project to be delivered on budget for BP, while also satisfying the site's local government leaseholder.  
A range of options
"Early on we proposed three ground improvement options: prefabricated vertical drains, stone columns and rigid inclusions [RIs]," explains Michal Krzeminski, National Design Manager. "Each has its advantages, however the significant program advantages with RIs, offering time- and cost-saving that BP were after, while meeting the tight differential settlement criteria of 50mm for the structures, and 100mm for the paved and landscaped areas."
Once on site in May 2019, the Concrete Column RIs were overseen by Project Manager Benn Zabawa. In total, the crew installed around 6,500 columns with a diameter of 270mm to depths between 8m and 16m, with those under the main structures reinforced with a 32MPa concrete.
"The site is around 36,000m2 and sits in an old flood plain area with very soft, compressible Ballina clay that has a long-term settlement of more than 40 years," says Benn. "We needed to carry out rigorous load testing, which performed exceptionally well and we ran a number of trials with the concrete to ensure we had the optimal slump and spread range to minimize risk of defects." 
Fuel Tank Innovation – "Avoiding the need for dewatering" 
The original scheme also called for conventional sheet piles for the deep fuel station tanks. However, Keller recommended mass soil mixing to create a mass gravity wall, stabilise the base of the excavation and provide dry, open conditions – eliminating the need for internal bracing and dewatering.
"The site was contaminated with acid sulphate soils, which meant any excavated soil and pumped water would require additional environmental treatment before disposal," adds Michal. "Treatment is very expensive and would have called for a treatment plant on site. Our solution avoided that obstacle."
A successful outcome
Due to the variable ground conditions and different performance requirements across the site – depending on the location of the buildings and landscaped areas – the team had to design the layout of the piles to provide the right amount of support to create a uniform settlement. This meant the concrete columns had to be set out in inconsistent gridlines, requiring carefully planned sequencing.  
The Keller team wrapped up the project at the end of July on programme, creating consistent, stable ground conditions so the construction team could begin building the highway service centre. 
"There's only one other company in Australia that can perform these types of ground improvement works," concludes Benn. "We were able to design and implement these different techniques to meet the cost and time demands of the project, as well as the challenging ground conditions. Overall, it's been a very successful outcome and a great solution for controlling settlement.
Project Manager