News article category
Project
Keller was given an opportunity to showcase its range of geotechnical techniques in a major construction project in Queensland.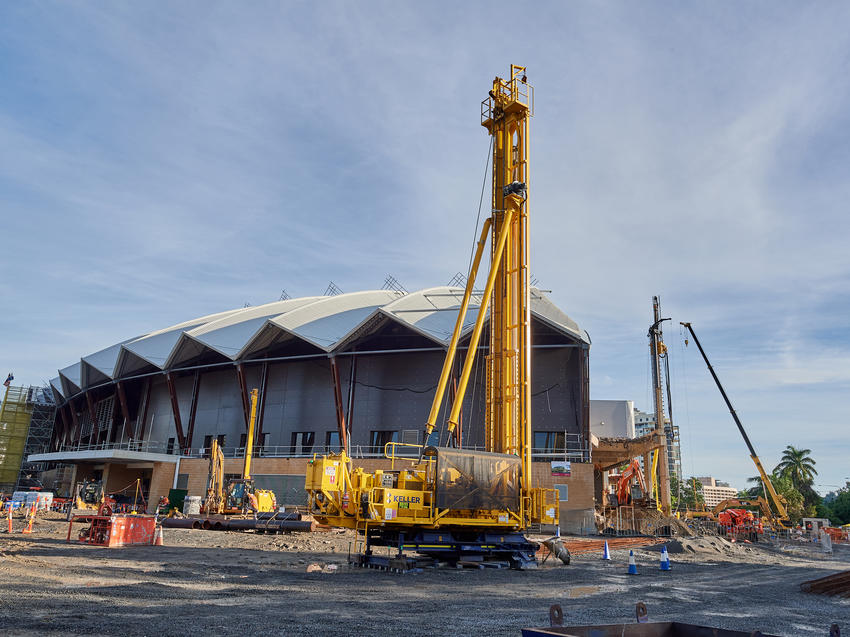 With the Cairns Convention Centre undergoing a A$180 million expansion, Keller was contracted by Lendlease to design and construct the foundation works. 
Twice voted the world's best congress centre, Cairns Convention Centre's refurbishment and 10,000m2 expansion includes a stunning tropically planted forecourt, plenary lecture space, meeting rooms, exhibition space, banqueting facility and more. It is scheduled for completion in 2022. 
One of the key factors in the choice of Keller was its track record in and optimising pile layout to create budget and timeline efficiencies. This expertise was critical given the scope of the work and some inherent challenges.
Alongside the design of 450mm Franki piles to support the proposed structure's individual columns, the work included 900mm continuous flight auger (CFA) piles for high loads; 400mm driven tube piles and 150mm micropiles for areas constrained by limited headroom; and 100 linear metres of sheet piling for retention of the lift cores.
According to Benn Zabawa, Keller's Project Manager, 'The ground conditions in Cairns, with around 10m of extremely soft, silty marine clay over dense sands and stiff clay, is perfect for enlarged base Franki piles – and we're one of only two companies in Australia that can do them.'
One of the biggest challenges was safely coordinating the two Franki rigs, CFA rig and materials on a multilevel site with only one access point, close to the existing building. However, the crew was able to benefit from some Keller R&D innovation. Franki rigs are normally 'walking' machinery, but Keller's plant experts had converted this rig to use caterpillar tracks, enabling it to move around much quicker.  
Things were made more complex due to existing stone columns and metre-thick stabilised sand in various locations across the site – both due to past projects. 'We really had no idea how big the columns were or how well compacted, so we used a mini pre-drill rig to help get through,' says Benn. 
Another unexpected discovery was hydrocarbon contamination in the ground due to old fuel tanks on the site. Spoil had to be carefully disposed of, with Keller ensuring no harm to the environment or crew. 
The Franki and CFA piles were installed relatively smoothly, but when it came to the sheet piles, the team had to bring in a side-loaded vibrator due to the overhanging roof of the existing building  – showing a can-do determination to solve any problem. 
The project wrapped up in May 2021, and despite the challenges presented by weather delays and a complex site, Benn was delighted with the quality of the work and the crew's ability to sequence several techniques safely to maximise production.
 
Keller has again demonstrated that we have the expertise to design and deliver a range of solutions for some of the country's most important construction projects.
Project Manager