News article category
Workplace and people
To mark International Women's Day on 8 March, we asked people to nominate fantastic female colleagues who have genuinely impressed them – and are making a real difference at Keller. Thank you so much to everyone who took part. Here are our highlights…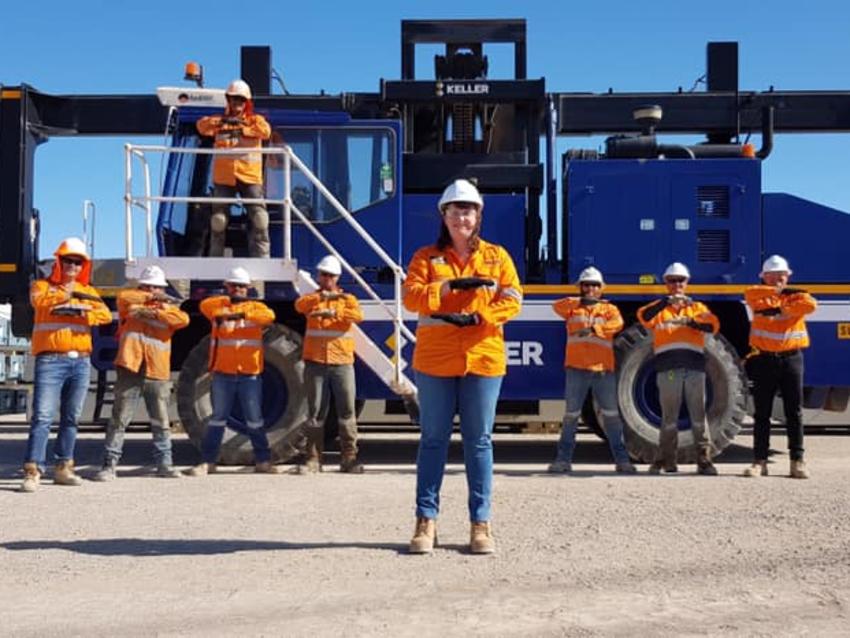 "Lidiya is exactly what every company is looking for"
Lidiya Renz
Plant Administrator, Queensland
Nominated by Lance Watt, Queensland Plant & Yard team:
As part of the new structure, Lidiya has been given a very big portfolio with lots of actions for her to cover in every state.
 
I can't emphasise enough how good Lidiya is and how much work she does for each state. She really helps so many people with workplace receipting, placing orders, organising parts delivery, helping accounts track down invoices – it's endless.
 
Lidiya runs a great ship here at Lawnton; she doesn't need to be given goals and targets or motivation, she just gets stuck in, has an amazing work ethic and gets things done quickly – first time with no rework. For me, the way she follows up on suppliers' deliveries and manages the shipping companies that collect our material is amazing – Lidiya's always on top of everything. She's even on my back for me to get my work done!
 
Lidiya is brilliant at looking after our suppliers, hence great turnaround times on parts when we need them. In fact, all of our suppliers want to give her a job because she's exactly what every company is looking for. Thankfully she works for us; she's amazing and everyone here at the yard has the utmost respect for her.
"The success of Payroll is testament to her diligence"
Susan Tannous
Payroll Team Leader
Nominated by Tina Santomingo, Group Financial Controller:
During her time with us, Susan has seen a lot of change and embraced it positively each time. The success of the Payroll function is testament to her diligence, commitment and work ethic.      
Susan's been with us for 15 years and has been contributing to our growth ever since. She started as a payroll officer and later joined the Keller Shared Services Payroll team. There she played an instrumental role in transitioning five separate payroll functions into one centralised model, making sure everything ran smoothly, with the minimum amount of disruption.
In 2016, she became Payroll Team Leader, managing the Payroll function with a dedication and resilience that can't be faulted.
"She has a really bright future ahead of her"
Danah Crichton
Graduate Engineer
Nominated by Nigel Brockman, State Manager, Queensland & Papua New Guinea:
Danah was an intern throughout 2019 and as a result of her hard work and attitude we offered her a permanent graduate role, which she took up at the start of 2020.
I've nominated Danah because she perfectly represents our evolving business unit and our investment in growing talent from within.
During her time as an intern, we threw Danah in at the deep end and enrolled her on one of our external graduate training courses. It involved her participating in a very hands-on eight-day team bid, plan and build of the Brisbane Story Bridge. She carried out various roles – even being project manager for the day.
Danah is effervescent and fits in perfectly with our lively team. She keeps us on our toes and is not overwhelmed by the challenges our business can throw at you – and by what some see as a male-dominant industry. 
For me as a leader, her attitude and approach to work is exactly what I want to see. She's been a sponge when it comes to learning, developing skills and competencies that will serve her well in the future as she develops into her role.
Danah's been a great addition to our team and business, and has a really bright future ahead of her.
"Dhe established strong relationships with everyone"
Dhe Naicker
Project Engineer
Nominated by Steph Alekna, Construction Manager, Queensland & Papua New Guinea
I first started working with Dhe when she was a graduate engineer and I was project manager on the CR2SM project. Dhe had come to us from more of a design background, so it was the first time she was based on a construction site full time.
I recall visiting the site not long after she'd started and witnessed her interaction with the crew. In a few short weeks, she'd established strong relationships with everyone and it was obvious they respected her as the engineer on site. This is always a challenge for young engineers and something Dhe handled without much of an effort at all. It was then I knew she had the ability to be successful in this industry.
 
Over the last few years Dhe has worked on a number of different projects all across the country and worked her way up to project engineer. She has never been phased by any challenge thrown at her and is committed to doing whatever's required to ensure projects are delivered successfully.
Dhe's now taking the first steps towards being a project manager by running a small project here in Brisbane. Even though it's had a few challenges, she's doing really well managing all aspects of the project.