News article category
Workplace and people
Keller has successfully installed over 2,000 precast piles for a lithium processing plant in Western Australia – a project that will power millions of electric cars for a greener future.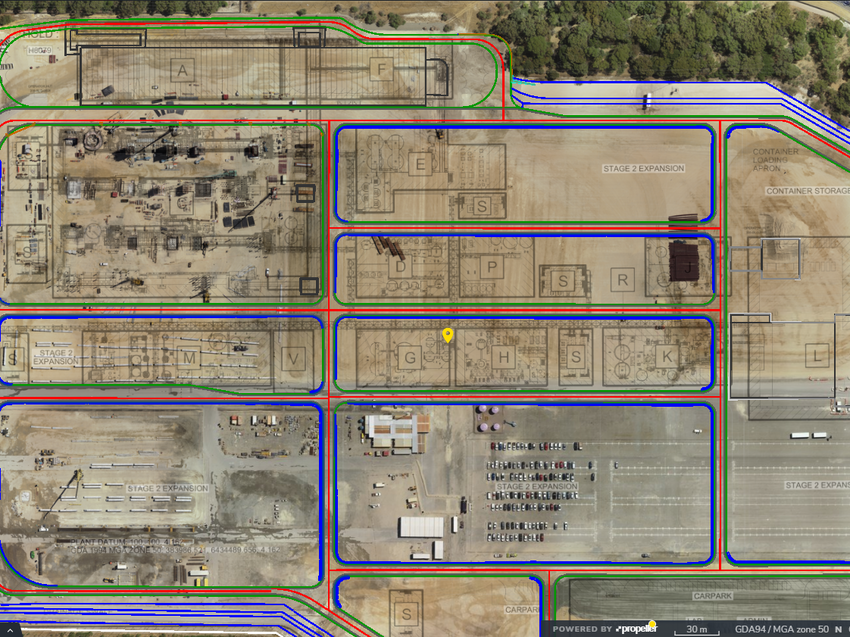 As demand for cleaner electric vehicles increases, so too does the need for the components that make them possible.
Once constructed and running at full capacity, the Earl Grey Lithium Project in Western Australia will produce around 50,000 tonnes of lithium hydroxide annually – enough to power batteries for a million electric cars every year.    
The project, run by Covalent Lithium, will include a mine and concentrator in remote Mount Holland, 500km east of Perth, as well as a state-of-the-art refinery in Kwinana, 35km south of Perth's CBD. It's here that raw spodumene concentrate will be processed into battery-quality lithium hydroxide, ready for shipping to global markets.
When construction for the refinery was awarded to contractors Melchor, they needed foundation experts with a world-class reputation for handling large, complex piling projects on challenging, highly regulated sites. Although most of Keller Australia's driven precast piling work typically takes place in the east of the country, its strong track record was enough to win the contract for piling design, installation and testing.
Unpredictable ground conditions
"The most critical aspect of this project was opting for driven precast piles, rather than conventional CFA / bored piles," explains Abid Munir, Keller Design and Estimating Engineer. The project site was previously used for storage of the oil waste sludge and there was a risk the soil may be contaminated. The conventional CFA / bored piling technique generates a lot of spoil and therefore assessment, treatment and handling of the spoil would have required a significant amount of time and money.
To ensure a smooth process and fast production rate, the Keller team proposed running an on-site precasting facility. "Although we were in an industrial area close to Perth, the site was deemed a mine environment, which meant there were very stringent protocols, restrictions, and safety procedures. To have the segments delivered would have significantly slowed progress, particularly with regards to access for delivery drivers.
"Producing, moving and storing piles on site was seen as a high-risk activity, but in our view a necessary one for optimised sequencing, planning and installing. We fully understood the risks and believed there was nothing that couldn't be done to either thoroughly minimise or eliminate those risks – and we were able to demonstrate that to the client."
An agile approach
Despite efforts to streamline production, the project ran into challenges early on, with Western Australia's borders closed due to the COVID-19 pandemic. It meant that expert labour from the east of the country wasn't available, forcing the team to carry out intensive training to ensure everyone was up to speed with the precast technique.
There were also domestic and international procurement and transport challenges. Keller leveraged its supply chain to ensure the team had everything it needed, including working closely with a local supplier to create an optimised concrete mix.  
To keep the project on track, Abid says the team employed an agile approach to project management – continuously looking for efficiencies and savings, even if it meant just gaining a few minutes here and there. This meticulous approach not only relied on effective sequencing, with piles in the right place when needed, but also small details such as the way piles were labelled and checked. The team also made sure rigs were left where they'd be needed the next day, rather than where the work finished.
Ahead of schedule
Over around five months and with three rigs, the team installed 2,135 piles to 34m deep. These were made up of 4,333 individual pile segments, ranging from 6m to 14m in length. Keller also had to test 10 percent of all piles across the 17 different areas of the site. The precast method saved time here as well, as Abid explains:
"With CFA / bored piles we would have had to wait around a week or so before we could test the quality and strength of the pile. With precast we could do it the next day, helping to fast-track the schedule. Whenever we had a break or there was a little bit of extra time, we could jump in and do the testing to keep things moving."
Despite early setbacks, the team's methodical, pragmatic approach and lean operations meant they finished around three weeks ahead of schedule. "We didn't panic, we didn't rush and trip over ourselves," says Abid. "We had a great relationship with the client and had a continuous improvement mindset that ensured we overcame every problem, constructing the quality foundations this important project demanded."