News article category
Project
A specialist Keller Australia team has overcome complex logistics, difficult ground conditions and COVID restrictions to complete foundation works on a tiny military island in the Indian Ocean. We caught up with the team to find out more…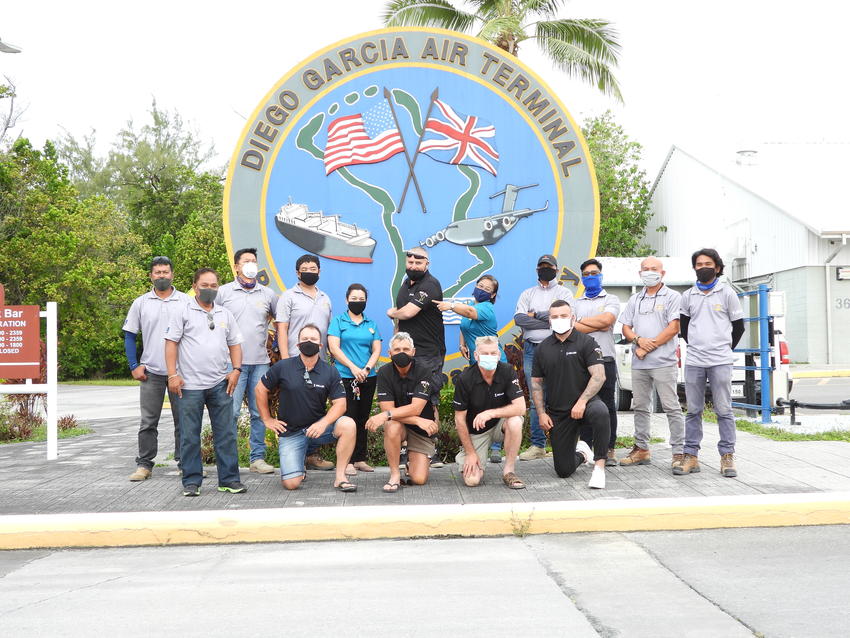 It's often said that Keller will go the extra mile for its clients – even when that extra mile takes its crews to some of the most remote places on Earth. 
Diego Garcia is a 30km2 British-owned coral atoll that's been home to a US Navy military base since the early-1970s. 
In 2018, the Black Construction Corporation (BCC) on behalf of the Navy, approached Keller Australia to carry out foundation works for two telecommunications towers using Franki piles. Keller is one of the few companies in the world to offer this technique, which allows for large loads with relatively short piles and no spoil.  
Don't forget your gloves 
Although the scope of works was relatively small – just 33, 550mm-diameter piles – the biggest challenge lay in the logistics of getting everything to such a remote place. 
"Only one ship a month arrives in Diego Garcia, so we had to make sure the team had everything they might possibly need with them, down to every spare nut, bolt and pair of gloves," says Allan Bowers, Construction Manager. 
The exhaustive planning took almost four months, as key equipment was prepared and subcontractors were secured for everything from shipping and lifting of the equipment at ports, to supplying the static load test beam and instrumentation.
Tough conditions 
It wasn't just the equipment that had to be at its best – so did the team, which needed to operate self-sufficiently for several weeks. With COVID restrictions limiting the number of crew who could go, a highly experienced – if streamlined – five-strong team was put together including Superintendent Dean Brindle, Leading Hand Damien Foster, Rig Operator Colin Jones, Fitter / Labourer Liam Parker and spare Rig Operator and Labourer Warren Scannella. 
Because of the impact on travel caused by the pandemic, the crew was flown out in private planes, and had to isolate for 14 days on arrival before the project could start. 
Once they finally began on site, the team encountered an upper layer of unexpectedly tough cemented coral – some of the hardest driving conditions they'd ever seen on a Franki pile project. 
Several proposals were considered, including pre-drilling by the team, but these were eventually rejected in favour of persevering with the standard rig method, with regular breaks to prolong the life of the friction brake pads.  
Great teamwork 
The choice proved the correct one, and over the next six weeks the crew successfully installed all the piles, with no significant problems either with the operations or the equipment. 
The project also marked a first for Keller. After the first pile, the team carried out a static load test, which was overseen remotely by experts back in Australia. 
Once the whole job was completed, the crew travelled back to Perth where they again had to isolate for 14 days.
The success of this project was down to us having a really good team that worked exceptionally well together – not just those of us who went to Diego Garcia, but also Allan and everybody back home who helped plan it," says Dean. "It's a credit to Keller for still using what is essentially a niche technique, but one which allowed us to secure this successful project. I think it really showed the lengths we'll go to to deliver for our clients.
Superintendent