News article category
Project
An automated food distribution centre, complete with state-of-the-art picking and packing systems, is being built in Redbank, 30km southwest of Brisbane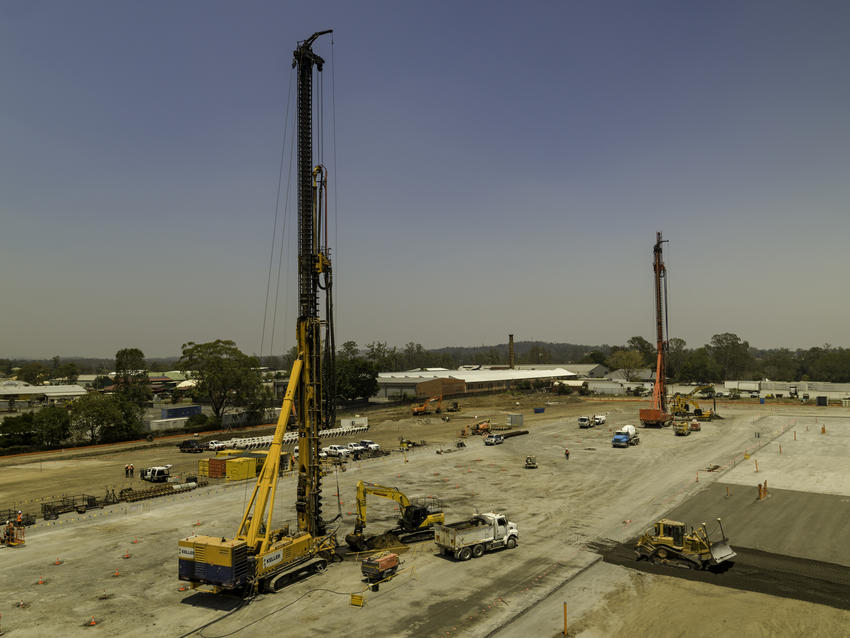 An automated food distribution centre, complete with state-of-the-art picking and packing systems, is being built in Redbank, 30km southwest of Brisbane, Australia . The advanced technology promises greater supply chain efficiencies, but such complex equipment can be highly sensitive to slab deflections and settlement. To avoid problems, the project called for perfectly constructed foundations – and that's where Keller came in. 
The new distribution centre is situated on a large industrial site and costing hundreds of millions of dollars to build. Once it opens its doors in 2021, it will be leased by a major supermarket supply chain for the next two decades.
Keller was selected for the foundation works by main contractor Richard Crookes Construction, due to its vast expertise and ability to complete faster than competitors.  
The project called for 305 structural piles (600mm and 900mm diameter) to be installed 25m deep underneath the main load-bearing elements of the 65,000m2 site, along with 849 ground improvement rigid inclusion columns (750mm diameter), 33m deep, to reduce settlement in key areas beneath the main slab. 
Saving time
"Although we had no design engineering input into the project, we were able to save the client a significant amount of time," explains Keller Project Manager Benn Zabawa. "This was achieved by using the continuous flight auger [CFA] method of installation, rather than the originally proposed rotary bored piles, which would probably have needed three times the resources to meet the schedule. 
"We're also the only company that could resource three deep-CFA rigs on this type of project, which was a big factor in us winning the contract."
Keller started on site at the end of October 2019. While the team coped easily with the sandy-clay ground conditions and low-strength rock at around 30m, a number of voids left by a 150-year-old coal mine proved more challenging. 
"If you encounter voids then it's unlikely that the piles can be constructed in a sound and monolithic manner, so when we encountered a void, we agreed a specific regime with RCC that would ensure construction to mitigate the risk," says Benn. 
A flexible approach and open communication 
Changes to the design during works – with piles increasing up to three times the length stated in the original tender – put extra pressure on the team. There was also a requirement to re-sequence some of the piles to maximise available resources, accommodate other trades and fit around the client's needs. 
However, Keller's flexibility and can-do attitude ensured the overall project ran well and was finished to a high quality, with no incidents, in mid-March this year.
It all comes down to open and honest communication with the client," Benn adds. "That resulted in a level of trust between everyone, enabling the works to proceed smoothly.
Project Manager