News article category
Project
When construction company Salini Impregilo-NRW Joint Venture suffered soil ingress and a damaged tunnel lining on a major rail infrastructure project, they turned to Keller for help. Facing a mammoth task with incredibly challenging ground conditions, Keller tapped into global expertise to create a winning solution.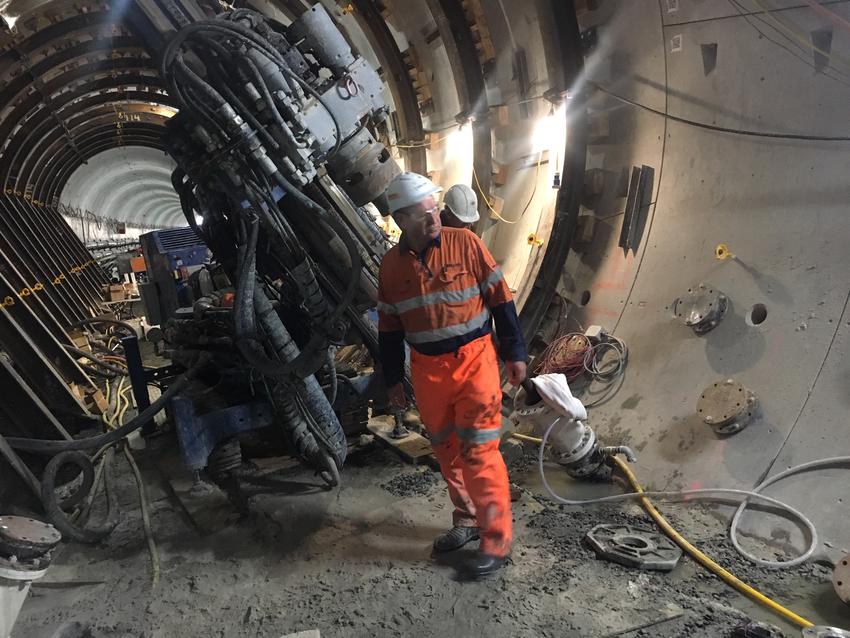 The Forrestfield-Airport Link is a A$1.86 billion project that will improve rail connections between the centre of Perth and its growing eastern suburbs.
Due to be operational later next year, the line is 8km of twin-bored tunnels with three new stations that will ease traffic congestion, support tourism and meet increasing commuter demand.
Linking the two tunnels are a dozen cross-passages that can be used for maintenance and in the case of emergency. It's at one of these, cross-passage 12 near the final station on the line, where Salini Impregilo-NRW ran into a problem in 2018.
"Their subcontractor had created a block of treated ground using jet grouting, but when they excavated the cross-passage, they suffered a large ingress of water and soil," explains Brad Clothier, Keller Project Manager. "This caused a sinkhole at the surface level, closing the road above and causing underlying damage to the concrete tunnel liner. Despite their attempts, the client was unable to alleviate the issue, so around August last year they asked Keller to help."
Global expertise
One of the advantages of Keller's position as a global company, is its ability to tap into a network of experts across the world. Faced with this challenging problem, including complex ground conditions and a high water table, Keller Australia brought in Paul Marsden, a grouting specialist and member of the grouting Global Product Team based at Keller UK.
"The client required a 3m annulus of grouted soil around the tunnel to allow remedial lining works to be conducted," says Paul. "The tunnel was constructed below groundwater level in sand and silty sand, with bands of silt and clay. This limited the number of solutions available, with the client concluding that permeation grouting using sodium silicate, was the most practical option to treat the majority of the soil within the treatment annulus. Keller worked with the client and consultant to agree what could be achieved, in very challenging ground conditions."
Challenging conditions
To treat the soil below the tunnels it was necessary to drill from inside the tunnel using a restricted access electric drill rig. This work was conducted around 12m below groundwater level using a 'self-drilling' tube à manchettes (TaM), installed through blowout preventers with additional seals to slow the rate of soil and water ingress during drilling. The team also used a cement-bentonite grout that could be injected with an accelerator, via a twin stream packer to set the grout within seconds. This sealed the TaM pipes into the holes cored through the tunnel segments.
In total, the team drilled almost 200 holes within the tunnel and a further 150 from the surface level, pumping 370m3 of grout between November 2019 and March this year.
Working closely with the client
"It was a real team effort," says Paul. "We worked incredibly closely with the client and their consultants, meeting weekly for technical reviews and refining what we were doing as we went along.
"The key was to go back multiple times to re-inject, picking up some of the less permeable bands of soil until we reached an acceptable level of strength and stiffness, and a significant reduction in permeability.
"One of the challenges of permeation grouting using relatively low-strength chemical grouts has been to sample and test the treated soil. Based on previous projects, we had considerable reservations regarding the practically of coring sodium silicate grouted soil.
 
"However, eventually we did get good core recovery, which is quite unusual in these conditions. We're delighted that we've been able to help the client get the project back on track and we've amassed some very good data that we can share internally to support future projects."
Grouting Specialist