News article category
Workplace and people
Keller Australia is helping its people kickstart conversations about mental health – and it's all down to some eye-catching workwear…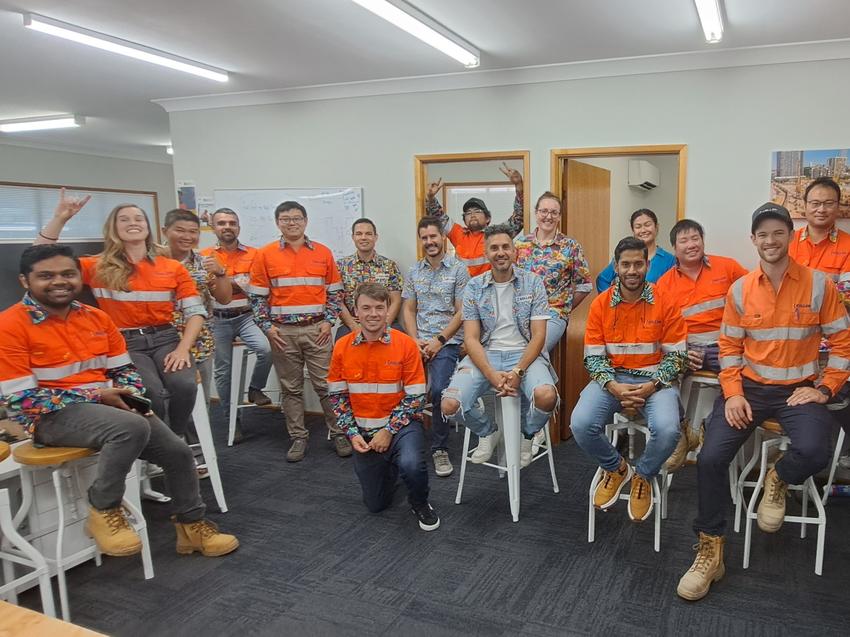 Visit a Keller Australia project site and you shouldn't have a problem finding our people. That's because our colleagues are now kitted out in some vibrantly coloured, flamboyantly patterned workwear.
The loud and funky shirts and hi-vis vests are about more than just adding a splash of fun to the work environment; they're designed to provoke conversations on mental health and prompt those who need it to get support.
The shirts were created by TradeMutt, a company set up by carpenter Dan Allen and his mate Ed, a former cattle station worker. Following the suicide of a friend, Dan wanted a way to reduce the stigma attached to mental health, particularly among male blue-collar workers. TradeMutt was born and it was an idea that resonated with Keller.    
Breaking down the barriers
"It was Construction Manager Steph Alekna who first turned up in her TradeMutt shirt and got the ball rolling," explains Nigel Brockman, Queensland State Manager. "We've been focusing on mental health at a local level in Queensland for some time now, but it's not easy. People in our industry are often reluctant to talk about this kind of stuff. And until you've been there and experienced it, most don't fully appreciate the importance of having conversations without judgement.
Nigel and the Queensland leadership team thought the shirts were an inspired way to break down those barriers, so decided to provide the state's site crews, workshops and office teams with the shirts.
From there, the idea snowballed. Nigel wore his shirt at the Keller Executive Committee meeting in Brisbane in July, showing members a motivating TradeMutt TEDx talk. Then, for Keller's Global Safety Week, the garments were rolled out to the rest of Keller Australia. TradeMutt shirts were even spotted in Dubai, worn by Keller CEO Mike Speakman, AMEA President Peter Wyton and Group HSEQ Director John Raine.  
A conversation starter
"This is a forward-thinking, proactive approach to generating honest discussion and awareness around mental health," says Nigel. "Keller has a duty of care to all its employees and this is one way we can help people recognise the signs in themselves and their colleagues that they might need some support. We want to normalise these conversations and this is a great way to do it."
Not only are the shirt designs eye-catching, they also come with the slogan "This is a conversation starter" on the back, along with a discreet QR code linking to TIACS, a mental health counselling service.
"The shirts definitely generate the right response," he adds. "Every time I wear my TradeMutt shirt someone makes a comment or asks me about it. It opens the door to a conversation that could change, or even save, a life. That power can't be underestimated."
Keller Australia is now looking to take things a step further, working with TradeMutt's designers to put together its own bespoke range. We can't wait to see what they come up with.
More information
Read more about TradeMutt: TradeMutt Workwear