News article category
Workplace and people
International Women's Day: Embracing Equity at Keller Australia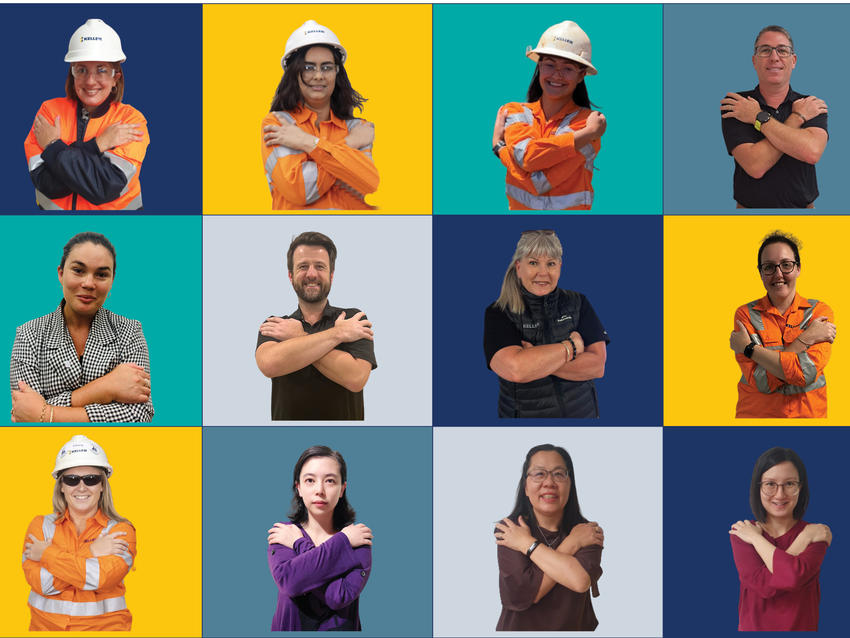 This year's theme is Embrace Equity, which highlights the importance of creating a level playing field where all individuals, regardless of gender, race, or background, have equal opportunities to succeed. At Keller, we are committed to Embracing Equity and fostering an inclusive and diverse workplace.
We spoke to some of our staff members about what Embracing Equity means to them and how Keller is working to promote equality in the workplace.
Athena Venios, our Managing Director, says that embracing equity is the reason she holds her position. Throughout her career, her knowledge and experience has been embraced by the industry, enabling her to achieve great things for all. "I encourage everyone to recognise that each person is different with different circumstances. It is our duty to provide opportunities to reach equal outcomes."
Diarmaid Long, our General Manager, says that he is proud to be part of a business that recognises the importance of diversity and creates equal opportunities for all people to realize their full potential, regardless of gender, race, or disability. "We have so much potential!"
Stephanie Alekna, our Construction Manager, believes that every person has a different set of circumstances that should never impact their ability to be successful. "I ensure my team is provided with the tools and support they each need to be successful in their role."
Nigel Brockman, QLD State Manager, stressed the importance of creating an environment where everyone has an equal chance to succeed, "Embracing equity to me, means providing an environment where my entire team can always thrive and be the best version of themselves each and every day."
Sharonica Singh, Office Administrator, appreciates the support provided by Keller during her personal challenges. "Keller's acknowledgment of my skills and the welcome back celebration upon my return to the office, reinforced my sense of belonging, while the consideration of my opinions makes me feel valued."
Danah Crichton, Project Engineer, believes that embracing equity means valuing the diversity of individuals and ensuring everyone has access to the same opportunities, resources, and support, "I am proud to work alongside the Keller QLD team who keep me on my toes and push me to succeed in the industry."
Celeste Jones, Commercial Manager, believes that embracing equity means creating an environment that fosters a level playing field for all genders. "At Keller I see this demonstrated through her colleagues' understanding of family pressures, language and respect shown to her, and increased representation of women in senior management and executive teams, which ultimately benefits the company."
Xue Le, Senior Design Engineer, appreciates Keller's support in providing necessary work-life balance through flexible working hours and maternity leave, "Keller's strengths lie in providing me with the necessary work-life balance through flexible working hours and maternity leave, which are especially important as a pregnant working mother."
Tania Robbins, ICT Service Delivery Analyst, feels that Keller's support for work-life balance demonstrates its trust in its staff and leadership in embracing family-friendly practices, "This flexibility is really important to me, but probably the greatest thing is how it demonstrates Keller's trust in their staff, and forward thinking and leadership in embracing work life balance friendly practices."
Kamna Shah, CAD Operator, appreciates Keller's support in balancing her work and parental responsibilities, "Flexible working hours to assist with the long commute from home and working from home, provide me with the work-life balance that I need. This support has allowed me to feel valued and trusted as both an employee and a parent."
Brittany Fowler, Senior Project Manager, feels fortunate to work in an industry that is challenging, demanding, and rewarding every day. "I work with a terrific operations and design team who pull together to exceed expectations daily. The open communication within our office creates channels of trust and promotes a healthy work life balance which allows and supports me to work from the office, on site or at home when needed."
Trudy Cain, Office Administrator, feels privileged to be part of a friendly inclusive team and appreciates Keller's commitment to creating a safe and inclusive workplace, "Knowing my work makes a positive difference to the company's culture and performance makes working for Keller truly enjoyable."
Laura Crawshaw, Human Resources Manager, shared her experience of being a female in a male-dominated industry, "Being a part of the senior leadership team at Keller as a female in a male dominated industry was a very daunting concept to me especially at first being the only female in the room. I am thankful to Keller's leaders for #EmbracingEquity and making me feel part of the team."
Lea Cochrane, Marketing Manager, appreciates Keller's efforts to embrace equity by respecting her priorities as a mother, "Keller has provided me with a career opportunity and the tools I need to participate in diverse projects that promote the business, our brand and be involved in cultural activities that makes Keller a truly rewarding workplace."
Yi Dong, Payroll Officer, feels that Keller has given her the opportunity to pursue work that she finds enjoyable and meaningful, "Keller has provided me with a good working environment and given me "a calling"."
Rebecca Ozols, Human Resources Coordinator, believes that embracing equity means not only representing but valuing the diverse perspectives of females in the workplace. "Embracing equity means to me that the diverse perspectives of females are not only represented but valued as well and I have been fortunate enough to experience this within Keller."
At Keller, we are committed to Embracing Equity and creating an inclusive and diverse workplace. We value and respect each other's differences, ideas, and perspectives and strive to provide equal opportunities for all individuals. This International Women's Day, let us continue to work towards a more equitable world for all.