News article category
Corporate
Thanks to early-stage involvement and a close partnership with the client, Keller Australia has designed and delivered an innovative ground-improvement solution, saving energy and infrastructure company, IOR, time and money.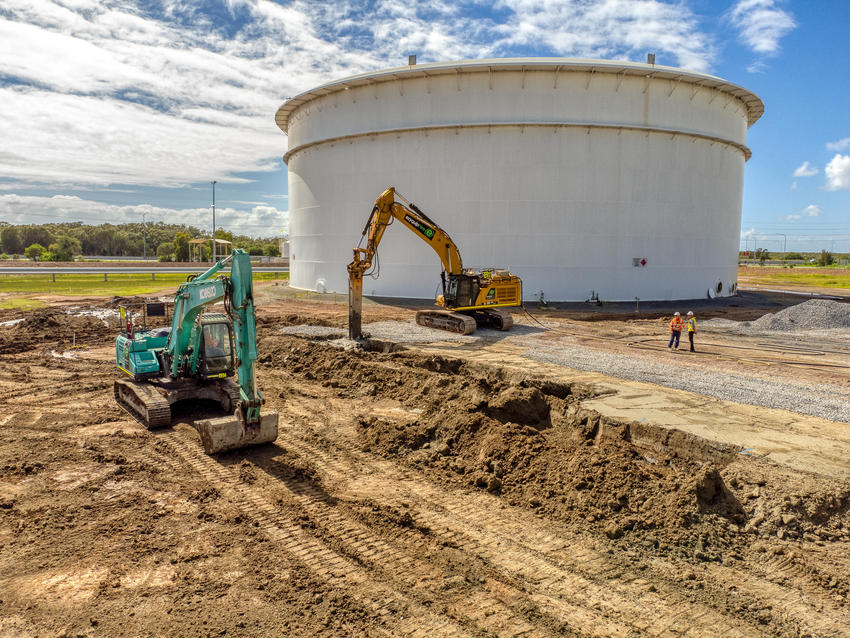 Construction is under way at the Port of Brisbane for new storage tanks that will create Queensland's largest diesel-only import terminal.
The Lytton Terminal is owned by IOR, a supplier of fuel to essential industries and regional communities across Australia. The site has long been home to a 50 million-litre crude oil storage tank, but that's now being repurposed for diesel. It's part of A$50 million expansion that will also see two new tanks being built alongside the original. Once completed in June 2023, the facility will be capable of storing 110 million litres of diesel.
Keller has played a major role in the project from an early stage, designing and constructing the foundations for the new structures.  
A time-saving technique
"We were initially approached by IOR's mechanical engineers because of the tricky ground conditions," explains Tony Eid, Keller New Business Manager. "The site was once swampland, so there's a high amount of organic material and soft clays, as well as a high water table.
"Initially the client considered removing the compressible soils and replacing them with structural fill, which is what they did for the existing tank. However, the water table and proximity of the new structures to the old one made this impractical, so we came up with both piling and mass soil mixing options.
"Although the client hadn't done mass mixing before, we provided reassurance and demonstrated that this option would save them two months and around A$1 million compared to conventional piling. As well as being used for foundations, the technique could also support their excavation work and create platforms for their large cranes. They bought into the idea, so we spent six months working closely with IOR to optimise the design."
Quality through technology
Mass soil mixing involves adding a cement binder to soils to stiffen and stabilise them, so a lot of time was spent creating different mixes and running laboratory tests to determine the right one.  
By the end of January 2022, the project was ready to start on site and over the next x months, the Keller team carried out 12,198.4m³ of mass mixing, supported by rigorous quality assurance and control standards. In particular, the crew used GPS satellite technology to ensure the mixed blocks were created uniformly in exact locations, while Keller's data acquisition system enabled them to precisely control the depth of mixing and precise amount of grout needed.
Keller was then able to save even more time by carrying out its own verification testing once the work was completed, as Tony explains:
"Rather than employing an external contractor to undertake testing, we invested in our own handheld PANDA dynamic cone penetrometer. This device was easily calibrated on site and used every day to verify the quality of the mix, giving us and the client instant peace of mind."
A huge success
One of the key challenges for Keller was sequencing. The team didn't have a working platform across the entire site, so had to mix an area, create a platform on top and then move onto the next. This approach required detailed planning to ensure they covered all the areas in the right order.
The crew also occasionally ran into more variable ground conditions and contaminated soils, which affected the mix strength. Here the team had to react with speed and agility to quickly adapt the mix and maintain a high production rate.
Keller finished on site in early May and Tony says the project was a huge success. "The client was so happy. This was a new technique for them, but we sold them on the benefits of mass soil mixing, they trusted us and we delivered. It was a real partnership approach at every stage, working as one team in an open and honest way – and that was what made it a success.
"We've built a brilliant relationship with IOR – we're already working on new projects for them and others are being discussed." 
The site was once swampland, so there's a high amount of organic material and soft clays, as well as a high water table
New Business Manager