News article category
Project
Keller innovation came to the fore on a project connected to the A$12.6 billion, 15-year upgrade of the Brisbane to Cairns Bruce Highway in Queensland. The programme of works comprises 37 projects aimed at increasing capacity, improving safety and reducing flooding.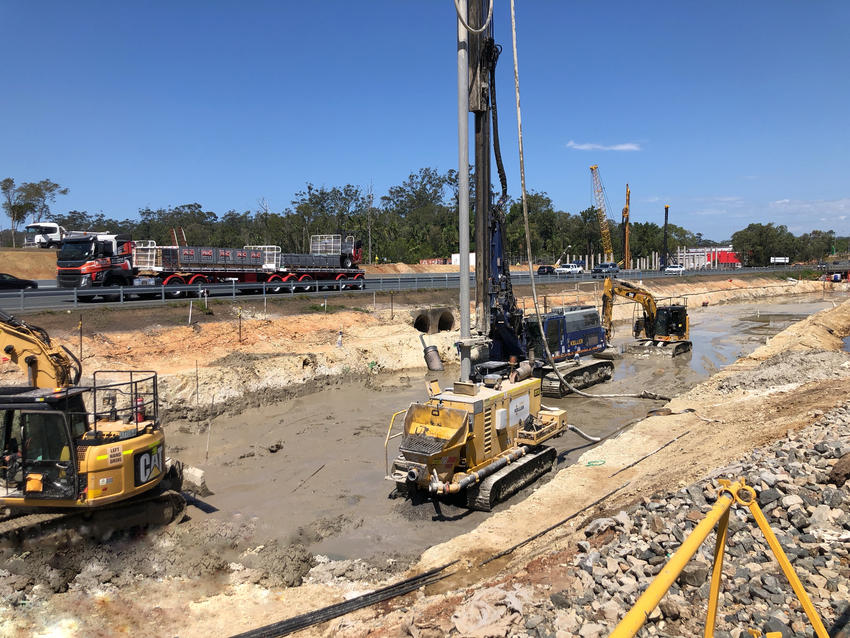 Keller was brought in to provide expertise on the transformation of the Maroochydore Road and Mons Road interchanges at Forest Glen, near the Sunshine Coast. The scheme includes widening Mons Road under the highway, relocating on- and off-ramp access points and creating new service roads to connect the interchanges and separate local traffic, easing congestion. 
One company, many solutions
From a ground engineering perspective, the project was a highly complex and diverse one, requiring the careful coordination of multiple piling and ground improvement techniques in several locations. For Keller, there was the complication of coordinating multiple techniques across a challenging site. Keller's Project Manager, Jibran Alam says, 'Most companies in our sector either offer piling or ground improvement. But what gives Keller the edge is that we can do both, which makes things a lot easier for our clients as they can use a single contractor.'
The client is a joint venture between John Holland and Seymour Whyte, with the scope designed by GHD. For two of the bridges, GHD chose driven piles, while for a third, bored piles were selected. For the new access roads, the designers opted for rigid inclusions to stabilise the loose soils. However, this presented a major problem, as Jibran explains. 'In order for us to install the rigid inclusions, we needed a platform lower than existing ground level. This would have required the client to excavate, put in a shoring mechanism and dewater to prevent collapse. This was something they hadn't initially factored in and it was going to be incredibly time-consuming and expensive. So we developed a solution using mass soil mixing – injecting and mixing the soils with a cement grout – to stiffen the ground, create a retaining system for the excavation and prevent water ingress.'
No room for error
Keller's proactive solution saved the client a huge amount of time and money, but the pressure was on Keller to ensure there were no mistakes. 'If the mix ratio wasn't absolutely perfect day after day, or the operator didn't quite go deep enough in one area, we'd have got a soft spot that we wouldn't have known about until a few weeks down the road – and that would have had a huge impact on the client's critical path. We needed to get it right first time.' And they did. 'The key to a project like this – constructing several different products including piles, rigid inclusions and wick drains across a dozen locations – is communication and coordination,' adds Jibran. 'The client had different teams in each location and we had several crews, so it was a huge effort to make sure everyone was talking to each other and on the same page.'
As is the case with so many projects, planning and communication are key elements to smooth delivery and success. For Jibran, 'it was very important that we met with the client every day to discuss what we were doing and tackle any issues as they arose. Problems in any one area created a knock-on effect in others, which then had implications for time and cost.'
Staying on track 
Jibran and the team not only had technical and logistical factors to take into account, but also specific constraints for each location, whether that was space, safety (working next to live traffic) or environmental concerns – ensuring a nearby creek wasn't contaminated by any spoil. 
Despite the scale and complexities of the project, Keller completed its works in November 2020 to the client's satisfaction, with no major incidents, ensuring the overall critical path remained intact. 
Construction is scheduled for completion in mid-2022. 
This was a project where we truly got to showcase not only the breadth of our expertise, but also the ability to come up with solutions, to develop ideas and to coordinate and execute multiple techniques to the highest standards,' says Jibran. 'It was definitely a challenge, but with excellent support from our plant and safety departments, our teams performed brilliantly.
Project Manager