News article category
Project
Construction of the first Marriott hotel to be built in Australia for 20 years is underway in Melbourne, after Keller successfully completed foundation work on what proved to be a logistically demanding site.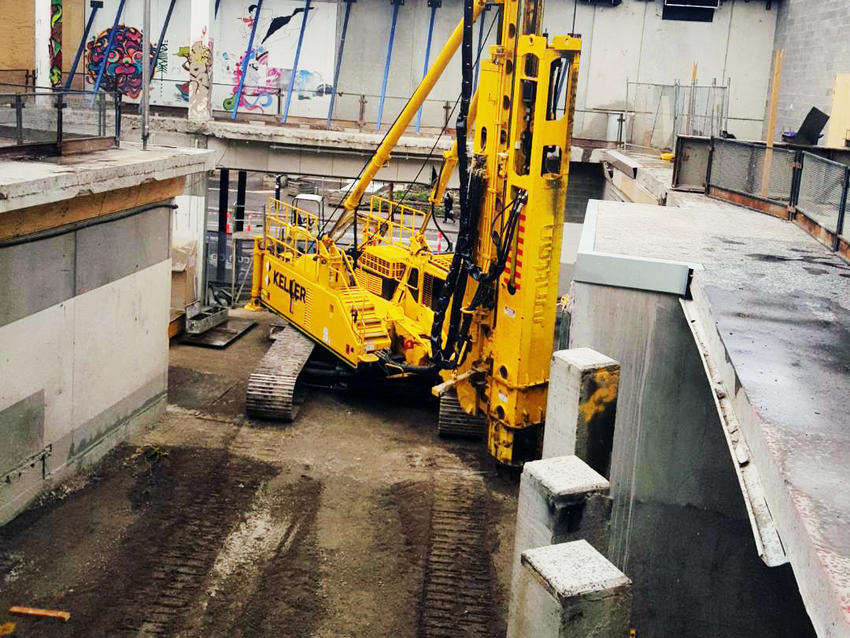 The 17-storey, five-star hotel will boast 200 rooms and is part of the wider Melbourne Docklands development that will also include over 100 apartments, a cinema complex and a revamped shopping centre.  
Having built a good relationship with the project's main building contractor, Icon Construction, Keller was asked to help develop a solution for the hotel's foundations, which included retention for the temporary excavation works for the core and underground car stacker. 
Space constraints 
"The main challenge was that part of the foundations needed to be built in the footprint of a loading dock within an existing building, so we had a lot of space constraints," says Rory O'Gallagher, Project Engineer. 
Although the roof of the dock had been demolished, the remaining walls created an awkward L-shape measuring 9m wide by 18m long. At the tender stage, the Keller team spent time planning the works and exploring different options within a virtual computer-aided design (CAD) environment. This allowed them to come up with an optimum solution, demonstrating that the rig would have enough space and giving the client confidence that Keller could carry out the work. 
Starting in March 2019, the team installed 81 No. continuous flight auger (CFA) piles, 34m deep, ranging from 600mm to 900mm in diameter. This technique was chosen for the main foundations due to the soft, sedimentary ground. 
Where site working space was more constrained, the team switched to a smaller machine to install 38 No. 400mm square precast piles. Finally, sheet piles were constructed for the temporary retention for the core excavation and car stacker pits. 
On time, on budget 
"The sheet piling wall needed to be constructed as close as possible to an existing wall," adds Rory. "This was difficult because there wasn't enough clearance, so we came up with a novel solution. We welded universal column sections to the back of the sheets, which offset where the rig clamps onto the sheet piles, so we could drive them down very close to the wall." 
Throughout the works, the current nearby shopping centre remained open, so the Keller team ensured clear boundaries and enabled safe public access adjacent to the site. The work was carried out in two phases in March and June 2019, with everything completed on time and within budget. 
Construction work for the A$250 million Marriott Hotel and new Docklands complex is now in progress with the hotel due to open in 2020.
"This was a high-profile project with some significant spatial challenges," says Rory. "But with careful planning upfront and a great deal of effort from the site team, it proved to be very successful and with a very satisfied client."
Project Manager