News article category
Project
A massive infrastructure project to manage increased levels of recycled water is underway in Queensland. One of the most difficult phases is the construction of a shaft for a tunnel boring machine right beneath a public park – a challenge the Keller team is tackling with a detailed and innovative design.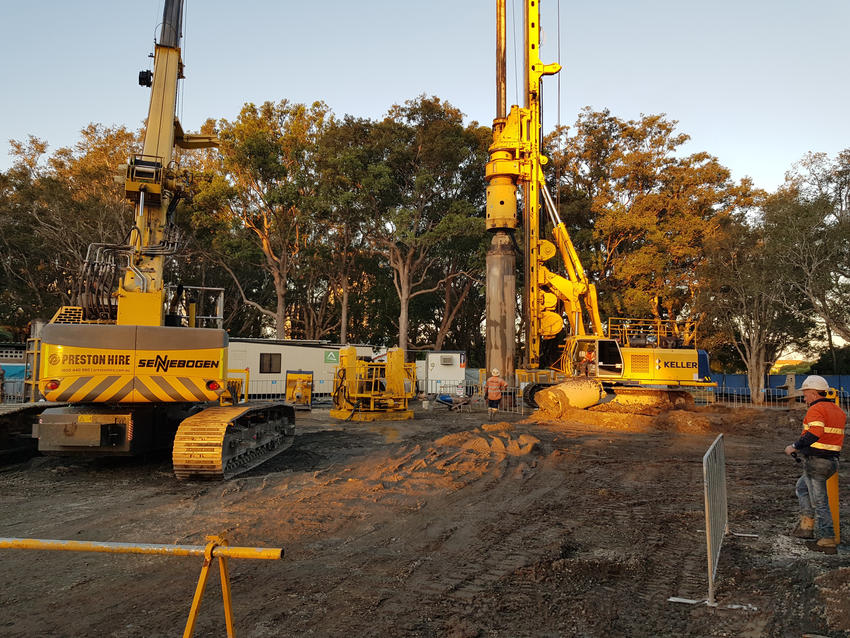 As the population of the Gold Coast increases, so too does the amount of excess recycled water produced by the city. With existing capacity nearing its limit, the city council has commissioned one of its largest-ever infrastructure projects.
The $70 million Long Term Recycled Water Release Plan will see existing pipelines updated and extended, with two new lines to take treated excess water to the ocean.
One of the most difficult parts of the pipeline extension is taking place at O'Connell Park, a heavily built-up suburb. After carrying out successful remedial works on two other tunnel shafts for general contractor John Holland, Keller has been brought in again – this time to design and construct a secant pile wall shaft to receive the tunnel boring machine (TBM). 
Detailed designs
"The shaft excavation depth is large – 19m – with high external groundwater, and due to the client's previous experience, seepage was a big concern," explains Sameh Khella, Engineering Manager.
"Our design had to consider a minimum internal shaft size to receive the TBM, but if it was too large it would significantly increase the cost and time of the project, while making material strength requirements harder. We also had to ensure that our solution could withstand heavy equipment working nearby at different stages."
Facing tight verticality tolerances, changing ground conditions at various levels, and stringent structural and watertightness requirements, Keller began a lengthy and technically challenging design process.
Different construction and operation scenarios were considered, and over many iterations the team finally settled on a hoop-resistance concept – similar to that used in deep-tunnel design – rather than a more conventional vertical retaining system.
"With this approach, we were able to create a highly efficient cutting edge design solution that has pushed conventional secant wall design to new levels, minimised pile depth, reinforcement requirements and the number of ring beams needed," says Sameh. "We opted for cased secant bored piles to achieve the required quality, included a capping beam to address the impact of heavy equipment, and used a ring beam to help prevent piles shattering at the break-in point.
"Throughout the process, we used sophisticated 3D analysis to optimise and justify the design, which was then reviewed by the client's specialist engineer."
Moving on site
With the design approved, the Keller construction team started on site in mid-June 2020.
"We'll be installing 26 1,300mm-diameter segmented cased rotary piles to depths of 21m between now and the end of August," says Benn Zabawa, Project Manager.
The works are also taking place in a busy suburb with homes just 30m away, so one of the city council's main concerns is disturbing local residents. As a result, noise barriers have been erected and Keller is only working in daytime hours, Monday to Friday.
Once the team finishes, the tunnel will be fully excavated and a new pipeline installed, connecting it to an existing one nearby.
The completion of this ambitious infrastructure project will future-proof the city of Gold Coast, which is expected to experience record population growth in the coming years.
"The ground conditions are very dense sands and the pressures from the high water table mean we have to ensure the piles interlock perfectly so there's no water ingress. With tight access on a live recreational park, a constrained site and a lot of equipment, the project has required strong logistical planning."
Project Manager