News article category
Workplace and people
While celebrating 10 years with Keller, we interviewed Eric to hear about where it all started...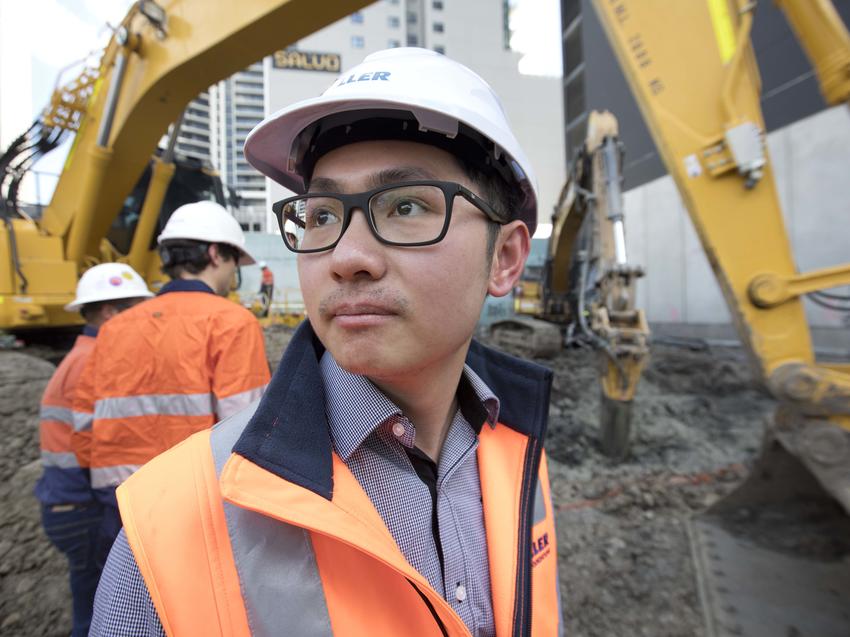 Eric Chong is well known in industry and celebrating his 10 years with Keller. We caught up with Eric to talk about his career and where it all began.
How did you come to Keller?
Keller was my first professional job fresh out of Uni. I was applying for jobs, specifically in geotechnical and piling, after my studies. I was excited when I got a call for an interview with Keller, knowing that Keller is a leader in ground engineering. I had a couple of interviews at Keller offices in Melbourne and Sydney. I was then offered a design engineer position in Melbourne.
Tell us about your background and studies. 
I completed my Bachelor of Engineering, Majoring in Geotechnical at Monash University in 2007. I was then offered a full scholarship for my PhD and spent 3.5 years researching laterally loaded piles socketed in Melbourne siltstone. I should love piling a lot! *laughs* 
I published seven journal & conference papers during my research and a few more with Keller and was able to present them in a number of international conferences. My studies have been really relevant to what we do at Keller and it's where my passion is and I'm very happy to be working here.
What influenced you to become an engineer?
My dad used to own a residential construction company in Malaysia, so since a young age I was going to site and playing in the dirt and sand. My parents say that I always loved excavator and crane toys. By about 15 years old, I knew that I wanted to be a civil engineer. It was set in my mind, and my parents were very supportive. I had the opportunity to complete my studies in Australia and living here has been a great experience.
How has your career progressed with Keller?
After starting as a design engineer, there was a title change to project leader and after a few years I became senior design engineer. Last year I took on the position of engineering manager for VIC/SA/TAS. I'm now looking at strategies and processes to enhance what we are doing technically to help Keller remain at the forefront in industry.
What does a typical day look like?
My typical day would be working on any tender proposals and contract designs. Most of the time I have a few live jobs running, so I make time to go on site for inspection to verify the materials that we are drilling in our piles are in line with our design assumptions and also supporting the operation team with any design queries. Meeting with clients and consultants also takes up a big portion of my time. I also devote time to assist other engineers, provide mentoring and supporting the Keller CFA Global Product Team (GPT). 
I also like keeping myself active in the industry. For example, I'm on an Australian Standard committee and also act as an advisory role at universities to help them shape their undergraduate syllabus to make sure it is relevant to the industry. I give a few guest lectures yearly at universities and I have sat on panels for the PhD committee representing the industry to review PhD candidates. So, I spend some time preparing presentations and reviewing submissions. While its challenging to juggle these with my day job, I don't find it a burden as I'm passionate to get involved in the industry.
What do you enjoy most about your job?
The people I work with, hands down. This office is great but also for my role, collaborating with my counterparts nationally has been beneficial. I also work with colleagues all around the world as part of the CFA GPT, and working with them is a real pleasure. We are all really passionate about our work and working for Keller and the opportunity to knowledge transfer between different regions from these sessions is really valuable.
​​​​What message do you have for the future generation of engineers?
I would encourage younger engineers to continuously develop professionally by participating in the industry such as attending industry events/seminars, writing papers, presenting at conferences, attaining charteredship, joining committees etc. Some of these may push you outside of your comfort zone but it can be a great experience and it is also a good promotion for the Keller brand. I always consider the easiest and cheapest way to promote Keller is through involvement in the industry whether by giving technical presentation or being involved in professional committee.  
Keller has always been so supportive of me. I would like the younger engineers to know that there is always support and resources within Keller for your development.