News article category
Workplace and people
In a career that's taken him from Leeds, England to Melbourne, Australia via Malaysia and the Middle East during an economic boom, Mark Newton has done it all. We talk to Keller Australia's Major Projects Director and diaphragm wall expert about his fascinating career and his love of motorbikes, history and Game of Thrones.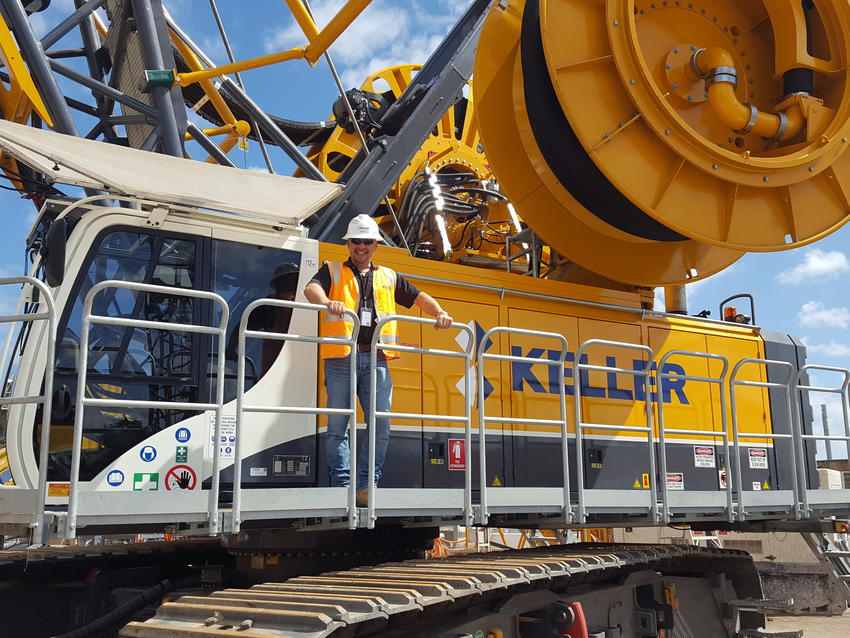 Hi Mark. You've had quite the career, can you tell us where it all started?  
I grew up in Leeds and originally wanted to be a mechanical engineer in the military, but at the time it was the height of the Northern Ireland conflict and I didn't fancy being posted there. 
After that, I aspired to be an architect, encouraged by my uncle who was one, but I didn't get the grades – at 18 years old there were too many other distractions! So I fell into a career in civil engineering, having been offered a three-year study/work internship with the local authority highway design department in Leeds. 
In 1987, I joined a Swedish-owned piling company in the UK (Balken Piling), where, as contracts engineer, I was responsible for driven pile projects on multiple sites across the UK and Ireland. 
When did you get your first taste of working overseas?
The company merged and we became Hercules Piling, with projects taking me to Belgium and Spain. Hercules was then bought out by Balfour Beatty and I moved over to in-situ piling, first CFA and then onto large-diameter bored piling. I had my first visit to the Middle East on a job in Yemen. 
You spent time in the Middle East during the boom in construction. What was that like?
Completely insane, but I loved it. I moved to Qatar in 1994 to join what was then the only piling company in the country at the time, responsible for all foundation projects across Qatar, UAE and Saudi Arabia. 
I joined Bauer in 1996 working across Malaysia, Singapore, Indonesia and Hong Kong – and it was in Kuala Lumpur in 1996 where I got my first introduction to diaphragm walls, which would become my passion and specialty.  
But in 2005 I decided to follow the glitz and glamour back to the Middle East, as general manager for a foundation company in Dubai, working across the whole Gulf region. To give you an idea of what it was like, from 2005 to 2008 we went from an annual turnover of US$40 million to US$450 million and a workforce of 150 to over 3,500! 
Then in 2009 the financial crash hit and it went down quicker than it went up. It was probably the most manic experience of my career, but I'd probably still be there or retired off the proceeds if it hadn't been for the crash. 
How did you end up with Keller? 
After Dubai, I relocated to Singapore to start my own business with a local partner. We undertook projects across South-East Asia and even as far as Russia and Panama. In mid-2011 I was approached by what was then Frankipile (owned by Keller) to assist with a couple of projects in north Western Australia. And then in 2013 I was asked to take the role of Deputy Project Director on the Wheatstone liquid natural gas project, which was Keller's largest-ever project in Australia. 
When the Keller companies merged in 2016, I moved to Sydney and became General Manager and Director of Foundations, but took the opportunity to move back into the field in early 2018 to work on the large Melbourne Metro Rail Project. 
So, tell us about your current role.
As Major Projects Director I'm involved in assessing and pricing large jobs, particularly anything involving diaphragm walls and advising the Keller team nationally and divisionally. I also represented APAC on the diaphragm wall global product team and was responsible for writing the company's standard operating procedures for that technique. 
I'm currently Project Director for the Westgate Tunnel Project – a major precast driven and large diameter bored pile infrastructure project in Melbourne. I'm also heavily involved in a bid for what will be Keller Australia's largest ever project. 
What's a typical day like for you?
I like to be on site early – 6.30am. Then it's coffee. I'm not worth speaking to until I've had at least two! Then it's planning out the day with the team, liaising with the client's senior managers, trawling my emails (affectionately referred to as 'The Swamp'), coordinating with the site safety management team, liaising with subcontractors and the supply chain, and staying on top of all the financial reporting, forecasting etc. 
What are your interests outside of work?  
I'm a biker – motorbikes not the things with pedals. My father was a competitive dirt-bike rider so I've been into them since a young age. I've raced at club level and ridden long distance across Australia, Europe, South East Asia and the US (Route 66). My ambition is to ride from Alaska down the Pacific Coast of North and South America to Patagonia. 
I'm also a lifelong Leeds United Football Club fan (which drives my wife nuts) and I'm trying to improve my Spanish. My wife's Ecuadorian and we plan to retire to Spain – eventually! In non-COVID times we loved to travel and I also enjoy the occasional game of golf with my son. 
Finally, what's on your cultural radar?
I'm an avid reader. I'm currently reading Keith Richards' autobiography – I always wanted to be him! Having been a teenager in the late 1970s in England I'm an old punk rocker at heart. I'm also reading a book about the Crusades and another on the history of Jerusalem. 
That interest in medieval history is probably why I love Game of Thrones so much. I'll spend hours talking about it with my youngest daughter, analysing all the plots and characters – I've probably seen the series a dozen times! 
 
As Major Projects Director I'm involved in assessing and pricing large jobs, particularly anything involving diaphragm walls and advising the Keller team nationally and divisionally.
Major Projects Director