News article category
Project
Despite a demanding programme requiring round-the-clock operations, Keller has once again delivered safely, successfully and ahead of schedule on one of Melbourne's most important infrastructure projects.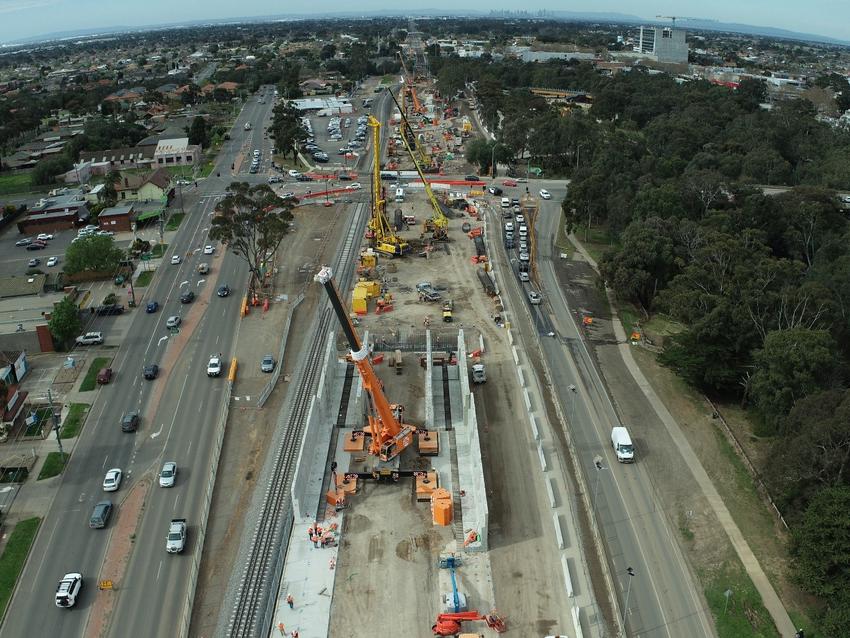 Victoria's Big Build is, as the name suggests, the state's largest-ever transport infrastructure programme – with A$70 billion being spent on 119 major road and rail projects over the next few years. One of the most important of these is the Level Crossing Removal Project, which will decommission 75 level crossings across Melbourne by 2025. The aim is to improve safety, reduce traffic congestion and increase capacity on the rail network.  
Keller has been involved in several of these projects, most recently at Werribee Street, where a new bridge is to be built over the road to carry the rail line.  
"This was an incredibly intense project due to the difficult ground conditions and schedule," explains Project Manager Mo Aziz. "The client [McConnell Dowell as part of Western Program Alliance] has a very tight window of just a few months to construct the bridge, so they're working 24/7 – which means they needed us to work 24/7 to get the foundations in place."
In total, Keller was contracted to supply and construct 42 bored piles up to 2,500mm in diameter with all sockets founded in basalt with an unconfined compressive strength of up to 80Mpa. "The ground in this location is all high-strength basalt, so we knew it would take a long time to drill through and we only had 44 shifts using three rigs to complete all the piles," he adds. 
Stringent planning
A fast production rate was essential, with no room for error and, of course, absolutely no compromise on quality or safety. The project, says Mo, came down to meticulous planning to ensure that the right equipment, people and procedures were in place. "Our construction plan was assessed by our most experienced people at the highest level to ensure it was accurate, and we also had contingencies for a range of scenarios should something go wrong and threaten the schedule. 
Engineering Manager Dr Eric Chong worked with Keller's bored pile Global Product Team and carried out numerical modelling using Plaxis 3D to assess the stability of the large diameter open bore and its complex interactions with the loading conditions from the piling rig. "The modelling outcomes gave us additional confidence that our 140-tonne piling rig could work in close proximity to the open holes safely while ensuring the safety of nearby personnel and assets." 
To make the project just that little bit more difficult, all the work had to be carried out under Victoria's strict Covid lockdown restrictions. This forced the Keller team to work remotely during the preparation and planning stages to ensure social distancing and extra hygiene measures on site and at the workers' accommodation were fully implemented. Detailed project risk assessments were developed addressing working under rail occupation, 24-hour operations and fatigue, and Covid-19 management plans.   
Tough drilling conditions 
The crew of 17, working around the clock in double 12-hour shifts, began on site at the end of August. "We knew what to expect with the ground conditions, but it was still very challenging," says Mo. "Some of the piles took six to seven hours to drill, with the client's team right behind us and ready to go with their follow-on works. One particular pile took us a whole shift to drill just five metres, but we were very well prepared for that."
The project also marked a first for Keller Australia: the purchase and use of Thermal Integrity Profiling (TIP) equipment to assess pile quality. TIP allows for evaluation over the entire cross section and length of the bored pile, measuring heat generated during concrete curing. 
Prior to installation, the reinforcement cages are fitted with wires containing thermal sensors. As soon as the pile is poured, devices are connected to the wires and thermal data can be viewed in real-time via a cloud system, with results available shortly after for analysis. This data builds a picture of the pile shaft geometry, making it easy to identify any potential issues. 
The 2.2m and 2.5m diameter piles assessed during this project are believed to be some of the largest ever tested using TIP in Australia. The technology allows for a much faster evaluation of pile integrity – just two to three days after pouring – compared to other methods such as low-strain integrity testing and cross hole sonic logging (CSL), and therefore speeds up the follow-on construction works.
Despite the project's demanding schedule and complexity, as well as the last-minute realisation that the prepared working area was insufficient to accommodate all three of the planned piling rigs, the team completed all piles ahead of schedule in just 22 shifts and using only two rigs. 
"I've been working in the foundation construction industry for over 16 years now and this has to be one of the most successful projects I've been involved in," says Mo. "It's really shown the best of Keller with our expertise, capabilities and equipment. It was a fantastic team effort by everyone involved, and I'm so glad to have been a part of it."
Project Manager