News article category
Workplace and people
With four female Keller staff working for the West Gate Tunnel project in Melbourne Victoria, provided a perfect opportunity to learn about what lead these women to work in the construction industry.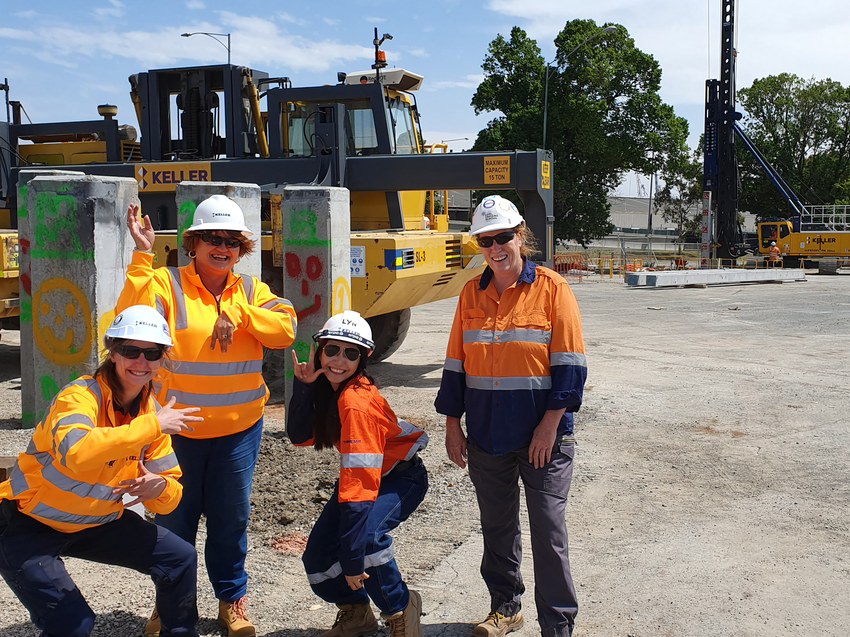 Martha Greeff
Project Administrator
West Gate Tunnel Project
I love site life, it is unique and so different to a job in the corporate world. I was fortunate enough to experience both. I started in construction back in 2005 in South Africa. When I moved to Australia, I started working for Downer in Brisbane and we moved to Melbourne after two years. I started working with Keller at Melbourne Metro Rail Project and now West Gate Tunnel Project and did not want to go back to corporate life, I couldn't be happier. I am the admin, finance and shopper, on site. My role is also to support the team. It's a variety of functions and duties. The hustle and bustle on site is always different from the normal office environment. I love being outdoors and this is the closest I can get to it. Working for Keller has been a really positive experience. I've received informative training sessions to manage the purchase ordering system and wonderful supporting colleagues for any assistance required. Coming from a foreign country and not knowing what to expect, Keller completely exceeded my expectations and is wonderful to work for.
Julie-Anne Wilkinson
Side-loader Operator
West Gate Tunnel Project
During my recovery time from a full knee replacement I enrolled in Cert III Civil Construction Plant Operations. I was looking for a change and always wanted to be a crane driver when I was young but those opportunities were not around for women. I have worked in construction for seven years now, experiencing quarry's landfill, subdivisions, rail and construction. I mainly drive dump trucks, water trucks and rollers and enjoy working outdoors. Keller provided an opportunity for me to operate a sideloader for the West Gate Tunnel project. We unload the precast piles off the truck and stack them onsite. I'm responsible for laying down the precast piles for the piling rig to pick-up. I really enjoy working for Keller. The crews are really great, friendly and helpful. I had two weeks of training onsite and have had support from my supervisors, safety officers as well as the experienced spotters to help me perform my role safely. 
Lyn Wongsuwan
Precast Yard Administration Assistant
West Gate Tunnel Project
The construction industry is very new for me, with no experience prior to Keller. I was hired by Vince Giordmaina who manages the Precast Yard in Coolaroo, Victoria. I'm so grateful to him for this amazing work experience and all the training and mentoring that he has provided to me. I have learnt so much and have had plenty of additional support from my colleagues to be able to perform my role requirements. Being an admin at a yard is nothing like being in an office environment. I am outside to do the transhipment, pile reinforcement cover record and quality concrete control which is an important part for pouring precast piles. A large variety of tasks and never a boring day in the yard. This career opportunity has been really beneficial, learning a variety of skills that will take me through life. A really positive experience and a company I am really enjoying working for.
Shannon Prendergast
Side-loader Operator
West Gate Tunnel Project
I have been around the construction industry my whole life. My grandparents started an earthmoving business over 25 years ago, which my Father and Uncle now run since my grandparents retired. My Father is my biggest inspiration in joining the construction industry. Growing up, I would rather go to work with dad, than to catch-up with friends. At 21 years I decided to get all of my tickets to operate machinery and started work as a concrete/tip truck driver and gained experience in a loader whilst working for Mawsons. Additionally, I worked for my father in his earthmoving business where I operated a variety of machinery. I am currently operating a side loader for Keller and I absolutely love it! It is an exciting job that can be different everyday and is an opportunity that I never thought I would experience. I am responsible for unloading precast piles from trucks and placing them out ready to be driven into the ground. Keller is amazing to work for. All of the employees are kind and always work as a team. Plenty of time was spent with me when I started to train me properly, which now means that I am able to complete my job safely and efficiently. I would love to continue with Keller for as long as possible.