690 linear metres of diaphragm wall for a 20m deep, 300m long metro station, all installed within a live tram and road corridor.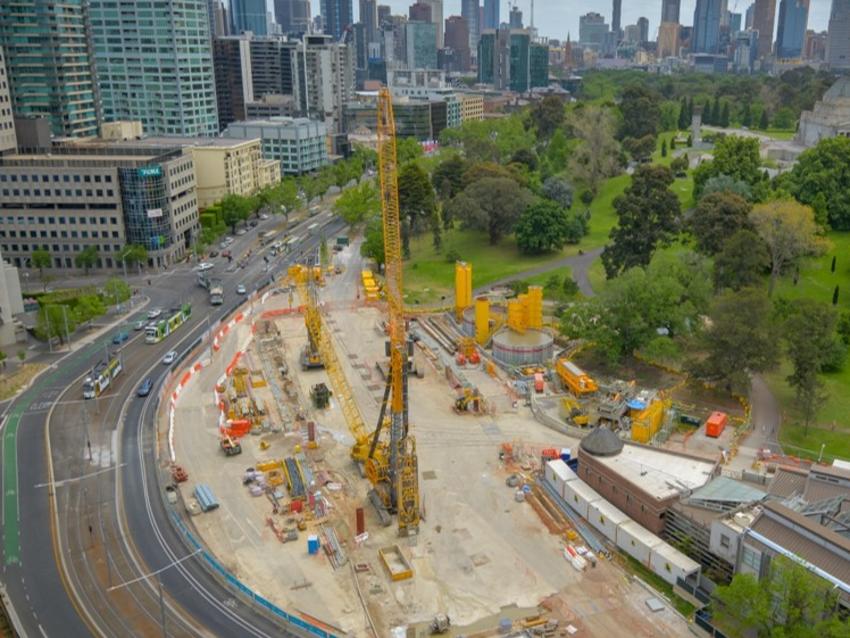 The project
The Metro Tunnel Project is delivering twin nine-kilometre rail tunnels from Kensington to South Yarra and five new underground stations through the centre of Melbourne. Anzac Station is strategically placed to ease pressure on the St Kilda Road / Swanston Street tram corridor, which is the busiest tram corridor in the southern hemisphere. Keller were engaged by managing contractor CYP Design & Construction to complete the retention and foundation work for the new Anzac Station.
The challenge
Our challenge was to construct a 690 metre retention system, for a 20m excavation depth, within a live tram and road corridor. Coordination of work over three distinct phases required meticulous planning and management.
The solution
An impressive 14,620m² of 1,000mm thick diaphragm wall under bentonite was successfully installed which form the permanent wall of the station. Bored piles under fluid were constructed along the length of the station to cater for high tension and compression loads, including plunge columns installed to a tight tolerance. These plunge columns allowed for a 'top down' station construction technique to be adopted where the excavation is carried out directly below the live tram and road corridor.
Project facts
Main contractor(s)
CYP Design & Construction (John Holland, Lendlease, Bouygues Construction)