Through value-engineered solutions and careful integration into the main scheme, Keller reduced the client's program by 4 weeks, read how...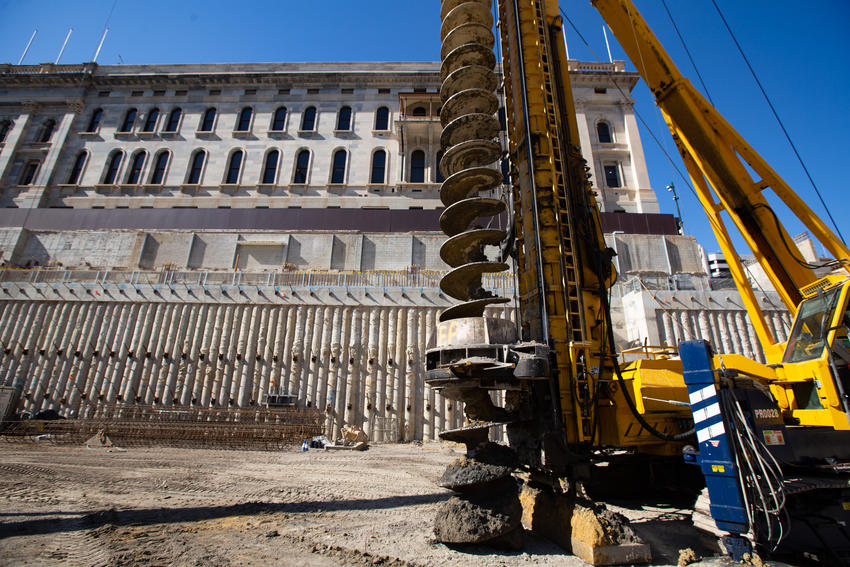 The project
The purpose of this $1 Billion redevelopment is to establish 16,500m2 of public realm space in the areas surrounding the Adelaide Festival Centre, Adelaide Railway Station, Adelaide Casino & Parliament House. The project includes the construction of a 5-level basement carpark and a 24-storey office tower building.
The challenge
The conforming solution required two mobilisations to construct the retention wall, with an outer soldier pile wall and an inner cut-off wall within the lowest basement level only. The significant retention wall was also directly adjacent to a sensitive heritage structure with a particularly stringent movement limitation. The variable drilling conditions also posed a challenge with high strength sandstone overlying saturated sands and a deep basal profile of weak rock.
The solution
Keller's solution was to install a single secant pile wall to save 4 weeks on the clients program. Detailed computer modelling of the adjacent building settlement ensured construction could proceed with confidence that the wall movements would not exceed the specified limits which were rigorously monitored during the works. The introduction of novel drilling methods also allowed Keller to install some of the largest CFA foundation piles ever constructed in Adelaide.