A multi-product solution providing the required lateral retention with the added benefit of a deep barrier to minimise groundwater inflow.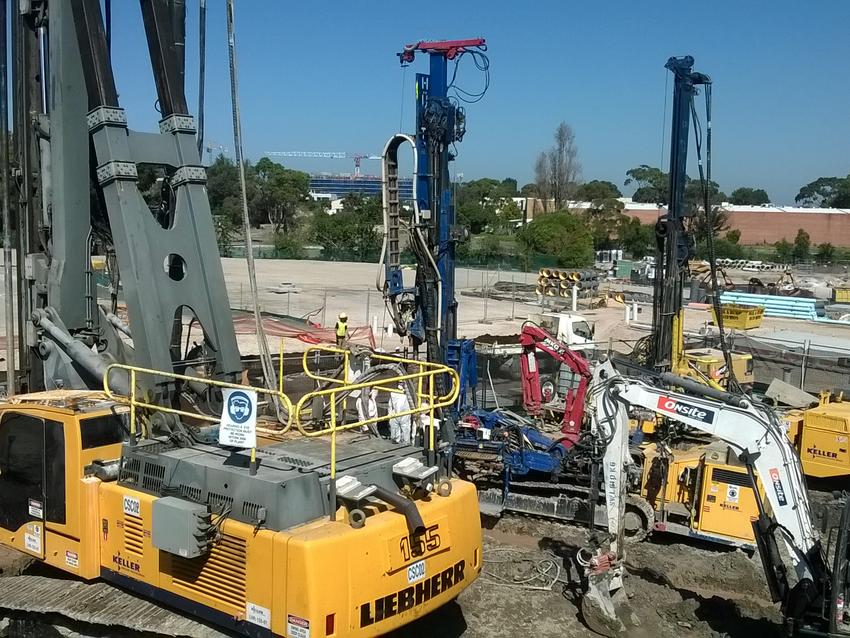 The project
The Green Square project, south of Sydney CBD, includes a new 10-storey residential development located on a former landfill site. Keller was contracted to construct a retaining wall and groundwater barrier for a 2-level basement as part of the permanent structure.  Asbestos in the fill meant all works were to be carried out in accordance with the strict asbestos containment and protection measures implemented specifically for the project.
The challenge
The existing ground conditions, including up to 13m of varying fill, presented a highly challenging scenario for most standard retaining wall and foundation options. The fill comprised building rubble, steel and loose sands and gravels; conditions in which a traditional secant pile wall would be difficult to construct due to maintaining pile verticality to ensure interlock with adjacent piles.
The solution
Keller's solution involved introducing jet grout sealing columns between structural CFA piles. Whereas with traditional secant, the 'soft' sealing piles are installed first, installing the Jet Grouted sealing columns after the structural 'hard' piles allowed for greater deviation in pile verticality and increased flexibility in pile tolerance, which in-turn increasing the ability to avoid obstructions. Despite the challenging conditions encountered, including the discovery of significant quantities of wire and steel, the wall was installed to the contract requirements allowing the basement to be excavated up to 7m below the ground water table.