Read how Keller provided a solution which allowed for a substantial reduction in the clearing area through the environmentally sensitive mangroves.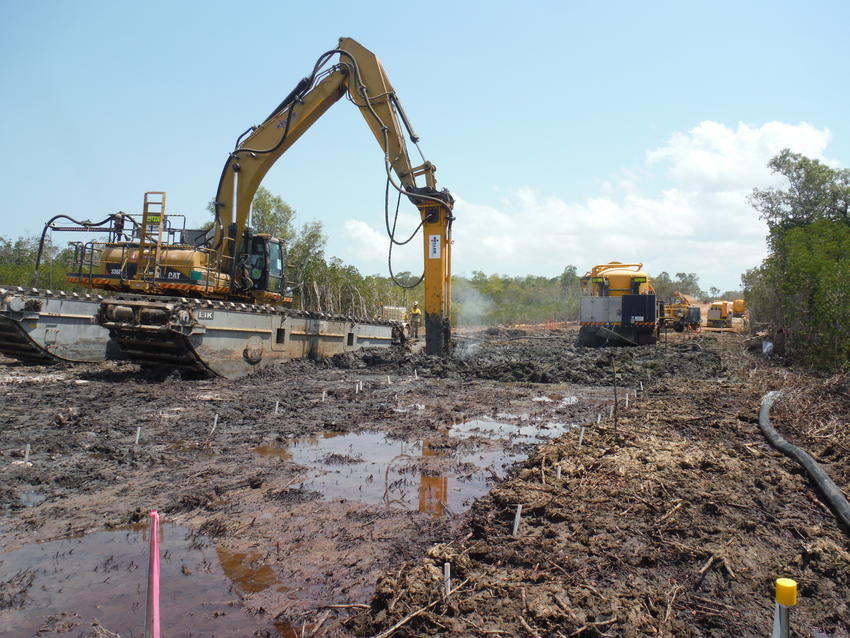 The project
As part of the Ichtys Inpex development a gas export pipeline was required to be built in a backfilled trench across 2km of intertidal mangrove muds. Keller worked with the project team to develop a solution that met temporary works, environmental and permanent requirements.
The challenge
The site, in the intertidal zone, is underlain by thick layers of very soft, mangrove mud with high organic content to depths of 4m. A solution was required to allow the trench to be safely excavated up to 1.5m deep and prevent long term settlement of the pipe. Access had to be coordinated around tides and work had to be carefully managed to avoid contaminating the environmentally-sensitive mangrove zone.
The solution
Keller performed dry mass soil mixing to increase the strength of the mangrove mud. Laboratory trial mixing confirmed the most appropriate and cost-effective binder dosage before work began. In the absence of a working platform, treatment was carried out using an amphibious tracked excavator, with dust control employed throughout the works to protect the surrounding area. Keller carried out testing of samples to confirm treatment had been successful, with shear strengths increased from about 10kPa to over 300kPa, as well the in-situ treatment of acid sulphate soils.