Innovative 1200mm diameter CFA secant piles successfully constructed to accommodate significant retained height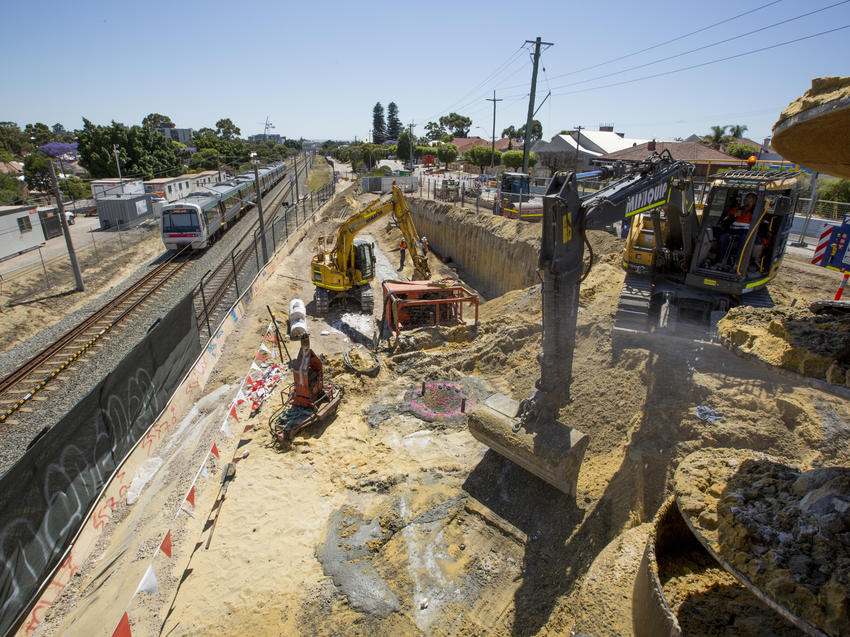 The project
The Third Avenue Bridge replaced a 106 year-old timber bridge with a new concrete bridge that had a single span of approximately 22 metres and included a second lane. Keller were contracted to construct the new secant pile wall solution using 600mm and 1200mm soft/hard CFA piles.
The challenge
The new structure needed to be installed whilst maintaining pedestrian traffic along the existing shared path underpass and without impact on the busy Midland rail line. Furthermore, Client design requirements called for piles to be constructed from several different working platform levels, adjacent to a steep batter which sloped into the rail corridor.
The solution
A strict concrete performance specification would require several concrete trucks to be parked and tested on a highly congested site. Sizeable cages, weighing up to 2.5 tonne were lifted in using a crawler crane and stored on site. Specialised large diameter drill tools were utilised to construct the 1200mm diameter piles up to 15m depth.