Keller expertise conquered a complex project, with challenging logistics and unfavourable geology, installing up to 2.1m diameter piles up to 50m deep in soft marine sediments.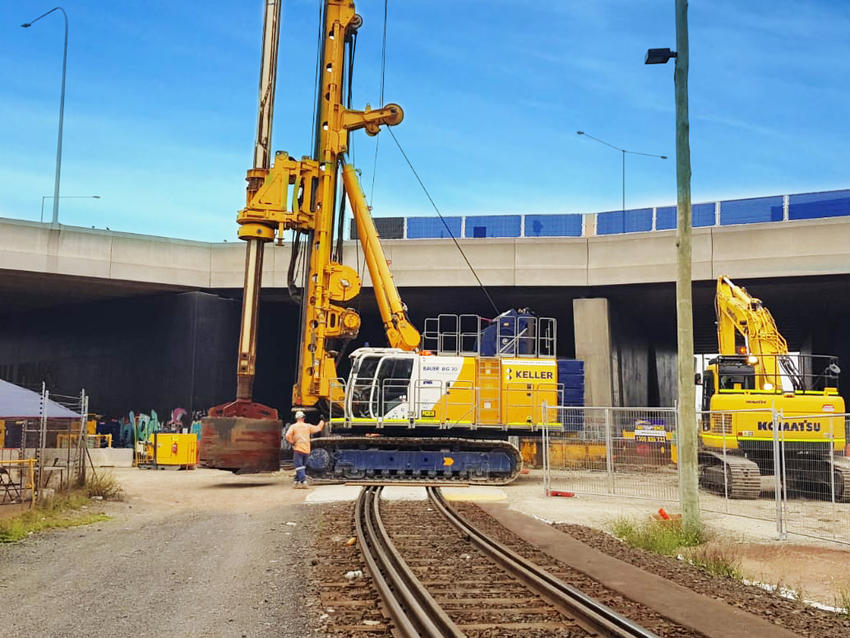 The project
The West Gate Tunnel Project will provide more than 15km of new elevated traffic lanes as a new major transport route to Melbourne's Port. The new lanes will tie into the existing Citylink structure at a number of locations, including flyovers, ramps and grade-separated crossings.
The challenge
The West Gate Tunnel East Zone viaduct bridgeworks intersects a highly sensitive power substation and buried gas pipeline, both of which are highly sensitive to ground movements; subsequently, a bored piling solution was preferred. Curved bridge spans of up to 100m required heavily reinforced permanent piles, up to 2.18m diameter and 50m deep, for a 100-year design life. Additionally, the construction of temporary towers required huge tension loads to be achieved and a monitored sequence of work. Logistical constraints required works alongside live rail, and in very close proximity to elevated roadway, without any risk of disruption to these busy, live traffic conditions.
The solution
Keller tailored a construction approach based on polymer support fluid, utilising our expertise in targeting the treatment of specific permeable layers to ensure piles could be satisfactorily formed. Meticulous planning resulted in a quality product delivered for a very complex project works, on time and without incident.
Project facts
Main contractor(s)
CPB John Holland Joint Venture (CPBJH JV)