Grouting work along tunnel alignment performed from isolated discrete compounds to minimise impact in sensitive environment.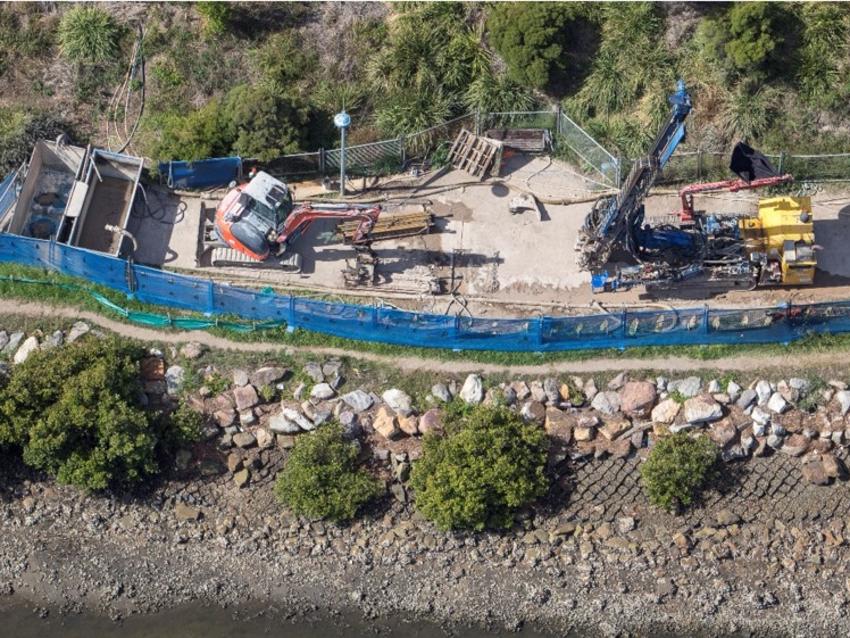 The project
The new $4.4 billion Westconnex M5 duplication required road headers to excavate through some areas of highly fractured water charged rock. Rock grouting works ahead of tunnel excavation were specified to reduce water ingress and the risks of delay and disruption to tunnelling progress.
The challenge
Limited surface access in a congested area required the works to take place from within discrete compounds where access was available. This dictated the drilling of grout injection holes up to 120m long through unstable paleochannel materials, fractured and intact rock including under the Cooks River. Working immediately alongside the Cooks River and parklands required rigorous environmental controls to be maintained.
The solution
Dual rotary drilling was used to stabilise drill holes and to ensure accurate drilling over long distances. Following drilling, acoustic televiewers were used to map the rock quality in the bore, allowing optimal placement of grout packers and the maximisation of each grout stage. With a fourfold increase in the area of works required, Keller mobilised additional local resources which combined with the innovative use of televiewers ensured the grouting operations stayed ahead of tunnel excavation. Grouting was carried out using our fully automated computer controlled grouting units and on completion a total of approximately 700 holes were drilled, 60,000m of drilling carried out and 3,200m3 of grout injected.
Project facts
Main contractor(s)
CPB, Dragados and Samsung JV (CDS)