Completed ahead of schedule our cased bored piles were installed to extremely tight tolerances to meet the pylon dimensions.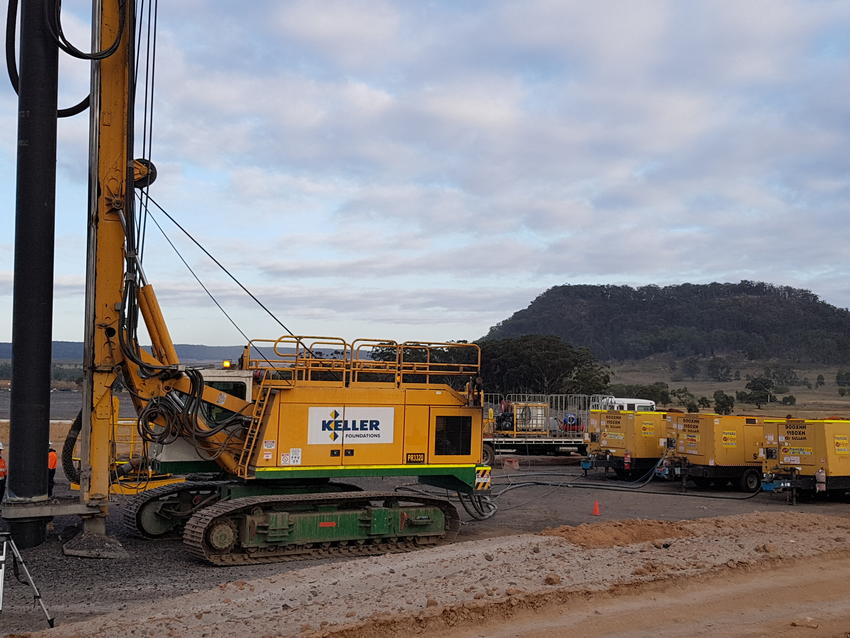 The project
As part of ongoing operational requirements Wilpinjong Mine needed to relocate a large overhead powerline. A number of the new pylons were located on a previously backfilled open cast mine pit which required a specialist foundation solution.  Following early engagement with the client and highlighting of the project risks Keller was engaged to design and construct of the work.
The challenge
The open cut mine had been backfilled with rock fill between 25m and 40m deep. The presence of the rockfill made conventional piling extremely costly due to the difficulty of both penetrating the rockfill, maintaining the stability of the sides of the hole and preventing drilling tools getting jammed in the ground.    Keller highlighted these risks at tender stage to the client and presented alternative options.
The solution
Keller designed 610mm permanently cased piles to safely support the loads via rock sockets of up to 3m.  A "Down The Hole Hammer"(DTH) overburden drilling system was utilised which simultaneously installs a casing as it breaks up and penetrates the loose rocky fill. Stubs were cast into the top of the piles to exacting tolerances to facilitate easy installation of each leg of the pylons.