News article category
Project
In Perth, Western Australia, Keller has expertly navigated difficult soil conditions to deliver a retaining wall and foundation works for a proposed luxury aged care facility. We speak to Project Manager Brad Clothier to find out more.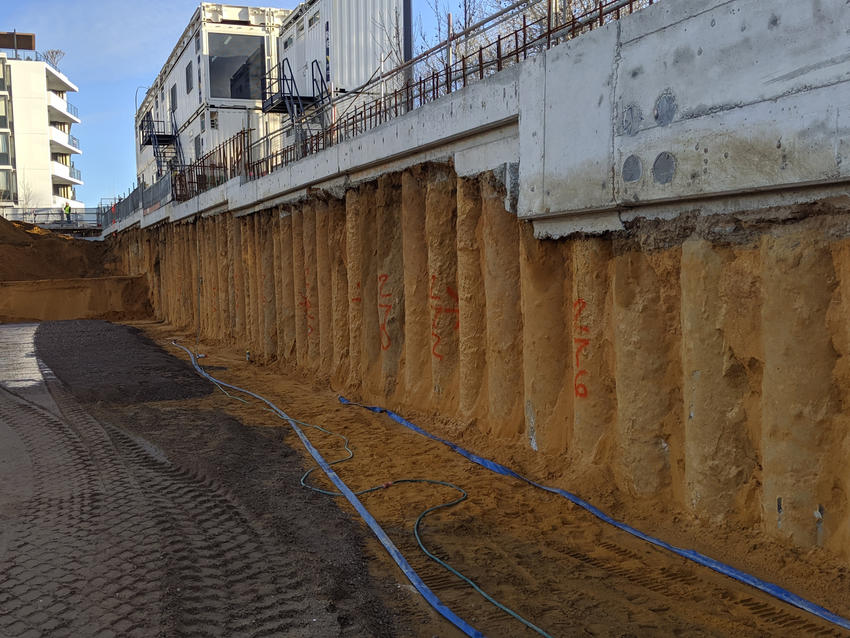 With more than one in six Australians over 65, the country faces a stark challenge to meet the needs of an ageing population. 
The growth in demand for aged care facilities has led to an increase in private developers entering the market. One such developer is Oryx Communities, which is building luxury aged care apartments in Claremont, a suburb of Perth. And it's here that Keller has recently completed earth retention and foundation works for this desirable new development.
Rigorous design
Keller was involved at an early stage of the project, selected by main contractor Multiplex to design and construct a piled retaining wall and foundation piles for the proposed building's column-bearing loads. 
"explains Brad Clothier, Project Manager. "The main part of the project called for a wall to retain a one-to-two-storey basement in a site roughly 45m by 70m.
"We wanted to use the most economical solution possible that would still provide all the necessary retention characteristics. With this in mind, and given the depth and soils, we designed a partially anchored, partially cantilevered solution with small mechanical anchors in some locations. In total we installed around 400 retaining wall continuous flight auger [CFA] piles. Alongside this we also installed 200 CFA foundation piles to a depth of 10m to support the structure."
Meticulous approach
The biggest obstacle was the ground conditions, which mainly comprised sand but with a high presence of limestone. 
"This precinct is fairly notorious for limestone pinnacles that are highly variable in presence and strength," he adds. "Limestone can have a very detrimental effect on pile constructability, causing problems with verticality and piles encroaching into the basement footprint. A quick look at some of the other buildings nearby shows you the problems other contractors have had.
"There was no magic solution for this. At the end of the day it was all about taking our time and meticulously and repetitively checking the drilling verticality of the machinery to ensure we were adhering to performance requirements."
Operating in a relatively constrained site was also challenging, with Brad and the team having little leeway and needing to carefully plan the sequence of works in line with the earthworks. 
Opportunities on the horizon
Having started on site in July, the team finished in September, well ahead of schedule, with no quality issues and a very satisfied client.
"This project has shown that Keller people have the skill set to manage risk in challenging soil profiles and work in constrained spaces to design and execute a successful project," says Brad. "With a couple more developments in this precinct scheduled for next year, the success of the The Queenslea project has put us in a good position to secure more work in an area with difficult ground conditions."
Senior Project Engineer