News article category
Workplace and people
Shahed was recently promoted to Mechanical Engineer for Keller at our Braeside yard and we caught up with him to discuss his career and future plans.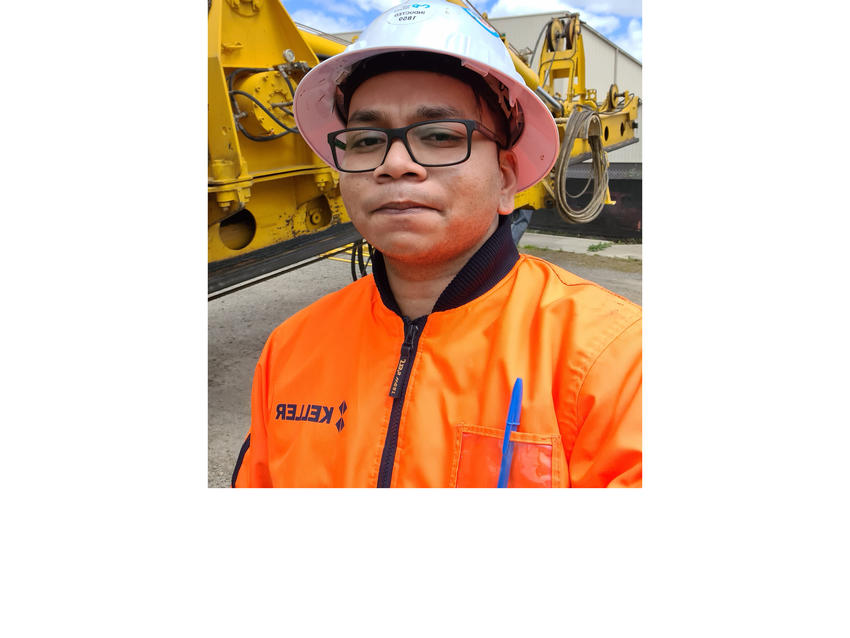 Congratulations on your promotion Shahed! Tell us about your studies and how you came to work for Keller?
After finishing high school in Dubai, I moved to Australia and completed my Bachelor of Mechanical Engineering with Honours at RMIT, graduating in 2016. After applying to a few graduate positions, I was contacted by Keller HR manager at the time and an interview was arranged at the Notting Hill office which was when I was offered a position as Graduate Mechanical Engineer and started onsite at the Melbourne Metro Rail Project.
What are your responsibilities and what does a typical day look like?
Most of my time is spent maintaining all sorts of records, documents, and information relating to our equipment on a national level and providing assistance with any technical queries on our fleet. I also prepare weekly maintenance reports, plant risk assessments, chasing up and processing logbooks to make sure our equipment is being looked after and  tracking all movements of all our plant.
What are your personal development goals and plans for your future?
I'd be interested in a management role in the future and for that I'll need to develop various skill sets and gain more experience. I would like to look at completing a Master of Business Administration, which would help me understand how a business organisation works and develop appropriate skills.
Do you have any other hobbies?
When I am not in the gym, eating or sleeping, I'm catching up with friends, looking for psychological thriller / sci-fi drama to watch and discovering new genres of music. I enjoy looking for alternate or sub-genres of music by digging far into the corners of the internet, or any sort of art form really.
What lead you to working in construction?
Construction is one of the key industries in Australia and one of the major contributors to the economy – it just made sense to apply within this sector and I'm glad to have made that decision.
My dad was a mechanical engineer and has advanced into maintenance management within the energy sector and was part of the reason I chose mechanical engineering, which also influenced me in working in construction.